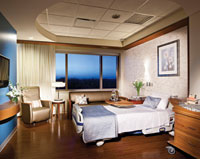 Ongoing security assessments must cover areas from private rooms to the hospital perimeter and parking lots. Photo courtesy of PRNewsFoto/BayCare Health System, HKS, Inc.
Getting a physical can do wonders for people and hospitals. William Nesbitt, CPP, president of Security Management Services International, Inc., has great advice on his Web site http://www.smsiinc.com.
He writes that, when it's time for a stem to stern security assessment, the process should obviously include review of all physical security systems and protocols in addition to review of the special security needs of departments such as pediatrics, ER, pharmacy, behavioral health, central supply and the business office. The assessment process should include a review of HR hiring and screening processes. Asset protection protocols should also be reviewed. Security awareness programs should be assessed for effectiveness as well as assuring they are contemporary. The training of security staff and employees, as relates to security issues should be reviewed.
"The point we are trying to make is that when security problems raise their head in a particular department or area within the hospital, assume they are symptomatic of larger problems until proven otherwise. Identified security problems can be an opportunity to get better. Remember security is an anticipatory discipline with mitigation as the primary objective," writes Nesbitt.