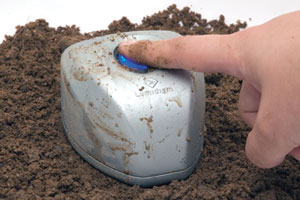 Readers outdoors must be designed to handle many weather and vandal challenges. Photo courtesy of Lumidigm.
Add dirty hands, dust buildup, vandals, salt spray, electromagnetic interference and even explosions to the rain, sleet, snow and the gloom of night that can affect operation of access control systems, and especially readers in harsh conditions. And there is the stress on readers that must handle intensive traffic or electrical situations that can knock out gear for a period of time.
There have always been ruggedized readers such as vandal- and weather-resistant units that can perform in extremes. Some companies, often with petrochemical, healthcare and government clients, repackage units to tamp down any chance on causing trouble or spreading germs.
For enterprise security leaders, there are a number of typical questions to ask: How far can a unit read? How robust is it? What kind of environments can you put it in? Can it sustain weather? Is the unit potted? Can you use it in harsh environments? What kind of traffic patterns are expected? Types of credentials or biometrics used?
Proximity and contactless smartcard readers, for example, are potted and able to perform better in extreme conditions as compared to older technology such as magnetic stripe.
The most recognized durability issues are weather and vandal resistance. Potting totally encases electronics. It measures up to many harsh outdoor environments. An outer case might get beat up a bit, but the inner electronics are durable. It is the norm today that readers have some weather resistance by default, says Damon Dageenakis, HID Global product manager, reader technology, Irvine, CA. He references UL 294. These requirements apply to the construction, performance and operation of systems intended to regulate or control entry into a protected area or a restricted area or access to or the use of a device by electrical, electronic or mechanical means. Parts of the standard cover dust and weather resistance. That's something in readers so they can be put outside in rain, dust and other environments.
Look for IP Code Number
Not to be confused with IP address, the IP Code (or International Protection Rating, sometimes also interpreted as Ingress Protection Rating) classifies the degrees of protection provided against the intrusion of solid objects (including body parts like hands and fingers), dust, accidental contact and water in electrical enclosures such as readers. The standard aims to provide users more detailed information than vague marketing terms such as waterproof. IP 55 or 67 can be a quick measure, as examples.
In addition, Dageenakis points out that, in harsh environments, contactless is always a plus.        
Still, some aspects to protecting readers in harsh conditions can create other challenges when it comes to hindering read range and delivering less than most effective performance.
Placement of more rugged access gear depends, of course, on the total system. In a building with, say, 200 readers, there may be a need for only a small number of ruggedized ones on the outside. But where there are building entrances in downtown environments, readers in remote areas where there is not a lot of supervision, or any place where there is a lot of throughput, more reliable access controls may make better sense.
Occupancy Assurance
Here's one example of how access technology in a high-tech design can be reliable even in high-traffic areas. Jay Beighley, AVP, corporate security, Nationwide Corporate Security, working with his integrator, Tom Clancy of Acree Daily Systems of Columbus, Ohio, saw value in 24 lanes of electronic turnstiles built by Automatic Systems, Inc., and integrated into access control and security video/audio in the Nationwide Insurance World Headquarters lobby in Columbus.
"The turnstiles are the only ones we could find that are IP-based technology that we can monitor remotely," says Clancy. In addition, the greater number of lanes and use of video and audio add solidly to the durability of the design.
When it comes to biometric readers, many have special enclosures to make them usable in a variety of outdoor applications. Biometrics face many of the same physical and performance-related challenges as card readers. But biometrics has its own set of challenges and solutions. Weather shields are a common thread for many biometric readers. However, when it comes to biometrics, physical performance is about more than where it can operate. It's about image capture and throughput.
Wet Fingers Fail
Wet conditions are notoriously difficult for both semiconductor and conventional optical fingerprint sensors to handle. And, yet, moisture is a fairly common real world condition. Some environments are naturally damp, due to climate or setting. Some people have moist hands. It is also typical for people going through security to be nervous and to have sweaty hands, according to Philip Scarfo of Lumidigm.
Conventional optical technologies are often challenged to produce images in wet conditions because excess moisture obscures fingerprint ridges, resulting in images of puddles, not fingerprints. Then there is the challenge of dry fingers in desert climates.
Multispectral imaging is a sophisticated technology developed to overcome the fingerprint capture problems conventional imaging systems have in less-than-ideal conditions. This more effective solution is based on using multiple spectrums of light and advanced polarization techniques to extract unique fingerprint characteristics from both the surface and subsurface of the skin. The nature of human skin physiology is such that this subsurface information is both relevant to fingerprint capture and unaffected by surface wear and other environmental factors. For example, more than 40 million people are already enrolled on multispectral imaging-based systems at locales ranging from the classic door access control situation to the gates of the world's favorite theme parks. Such readers are keeping borders secure around the world.
Trust is Another Challenge
No matter the reader technology, however, reliability now includes additional levels of security.
One example, HID Global created a next generation access control platform and open ecosystem based on its Trusted Identity Platform architecture for a new era of advanced applications, mobility and heightened security threats. It enables a new class of portable identity credentials securely provisioned and safely embedded into both fixed and mobile devices to enable users to add levels of security, customize security protection and extend system capabilities without having to overhaul the device infrastructure and applications.
The harsh environment many government and military access control systems face, especially in the age of personal identity verification (PIV) cards and readers, includes the need to meet higher level security in a cost effective and somewhat convenient way.
Some expect PIV-Interoperable will universalize security, which will bring immense economical and practical advantages, according to Jeff Nigriny of CertiPath, authorized by the U.S. government to test and certify these PIV-I credentials, which are being developed by companies such as VeriSign, Citibank and Verizon.
Nigriny sees gains from moving from traditional to trusted physical access control systems (PACS). A traditional PACS model has entire facilities or even just door systems operating in segregated silos, he points out, with the limiting factor of low assurance credentials.
Public Key Infrastructure or PKI-based high assurance credentials can increase security for physical access, including in harsh environments. With trusted PACS, entire buildings or enclaves of buildings can now be treated as a single security node on an organization's network to provide them with situational awareness down to each door across multiple facilities. Such a solution supports integration with the emerging PIV credentials issued by federal agencies and the new PIV-I credentials from non-federal issuers. PIV card readers, like other readers, can also come equipped to handle harsh conditions. 
Harsh Environments Call for Partnership Skills
Just take a look at refinery operations.
Dan Buchanan, the security and emergency preparedness supervisor at Marathon Petroleum's Texas City, TX, refinery operation, points out that "among our core values are health and safety and environmental stewardship." The company and its numerous refinery operations in the U.S. conduct business with high regard for the health and safety of employees, contractors, and neighboring communities.
Much of Buchanan's Texas City refinery facility, built in the 1930s, is located on Galveston Bay, off the entrance to the Texas City Ship Channel. "It's about 150 acres with about 270 employees with a complement of site contractors as well," adds the security and emergency preparedness supervisor.
He has his own staff; works with an onsite staff as provided through G4S, the international security solutions group; as well as with local, state, federal law enforcement and homeland security agencies.
With the refinery's location on the Bay and Channel, the United States Coast Guard also plays a critical role under the Maritime Transportation Security Act of 2002, often through a maritime safety and security team.
"Concerning physical security, the investment in time, effort and funding has accrued over the years at the refinery," says Buchanan. "We continue to upgrade the perimeter with security video, intrusion detection, vehicle barriers, electronic access controls, hardened security centers and hardened fencing." There are other initiatives, of course, including workforce screening and background checks.
"Our security provider – G4S – is an important part of our security formula. They also help manage our access control technology and other systems," the Marathon Petroleum staffer points out.
Also playing an ongoing role is law enforcement. "We always work closely with the Texas City police, the Sheriff's office, the local FBI office and the Coast Guard, especially when it comes to emergency preparedness and planning and with an incident command system. There are quarterly and annual security drills" in which everyone participates at some level. In addition, the G4S workforce also has their own drills and training," overlaying their involvement with the facility drills.
The future will hold more in the application of technologies, no doubt. Buchanan suggests that there will be "expanded use of cameras, more robust and capable access control systems, all enhanced through use of advanced intrusion detection."
The supervisor also sees the need to "continue our attention to mitigate and respond to workplace violence incidents." Protection measures will also need to be bolstered across all types of critical infrastructure when it comes to cyber threats, too. "In my personal view, the very best defense mechanism we have is the ability to get all our site workers involved in security and safety. They are a force multiplier."
By the way, refinery operations often can include crude fractionation, catalytic cracking, alkylation, reforming, aromatics extraction and sulfur recovery. The product mix can include gasoline, distillate, naphtha, light cycle oil, propane, slurry, propylene, benzene, toluene, xylene and sulfur, as examples.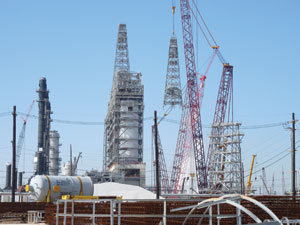 To face unique needs, security officers work smoothly with technology, says Dan Buchanan, the security and emergency preparedness supervisor at Marathon Petroleum's Texas City, TX, refinery operation. Petrochemical plants call for ruggedized gear and trained staff. Pictured here is a separately-owned refinery: The Motiva Port Arthur refinery's new coker unit. The unit will be able to process roughly 95,000 barrels of oil per day. Photo courtesy PRNewsFoto/Motiva Enterprises LLC