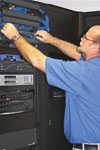 Forget the technology. Disregard the price tag. That's right. When it comes to a solid, effective partnership between enterprise security leaders and their integrators, end users seek what their business needs while integrators understand the specific of their client's business. And wrap trust and clear communications around that.

Of course, Darrel Parker, assistant trial courts executive officer at the Santa Barbara County (Calif.) Courthouse, knew he needed a certain kind of security. But he knew even better his community and culture and his building's historic role and surrounding environment. And so did his system integrator. The outcome was an application of technology in such a way as to meet all those requirements.


Working with Siemens Industry USA Building Technologies, the approach blended with the architectural brilliance of the courthouse and its surroundings and complemented the specific but adjustable operational rules and privacy concerns of the court. The Santa Barbara courthouse partnership is featured in detail elsewhere in this article.


Capt. David Baisden of the Oklahoma County Sheriff's Office, who did his security tech homework and much of the installation, sought out integrator Joshua Herron for an experienced ear attuned to a county jail's unique needs and, by the way, for Herron's sharp-eyed megapixel cameras.


Integrator Tom Clancy didn't have to worry too much about history or cells as much as know the healthcare industry and the facilities and neighborhoods in and around the Cleveland Clinic. President of Acree Daily in Columbus, Ohio, Clancy has expanded the business with engineering, project management and estimating resources.


Randy White, director of police and security operations at the Cleveland Clinic, sees a number of aspects that differentiate hospital security from other environment. "There are 24x7 patient care and operations, families under significant stress, open visitation, a welcoming culture and a trusting environment," he says. You have to be mindful of the culture of caring and healing, he adds.


It turns out that most integrators and security end users are also caring when sharing key elements of what makes the best relationship. As collected by Security magazine for this report, these elements include:


• Understanding my/their business needs.
• Appreciate ever-changing elements of the business – the economy, budgets, and stakeholders.
• Match future planning to the enterprise's calendar – some go six months out, some go three years out.
• Trust your partner, thanks to prior work, colleague recommendations and other ways.
• Build and always use clear channels of communications.
• Create and follow through on detailed, deadline sensitive project management.
• Provide premium customer service - quick response with quotations and on-site service.
• Demonstrate technical ability in design.
• Demonstrate the technical ability of programmers and service technicians.
• Maintain a personal connection in the relationship.
• Understand and share a roadmap between the enterprise and the integrator.
• Match levels of integrator technical and project management expertise with current and future end user needs.

So where does cost and that bag full of leading edge products and systems come to play? Those elements are there but need to come after – and more easily – then the basics.

Establish Evaluation Process for New Tech
It is important and part of my own business to keep up with technology, admits Clancy, who has a formalized evaluation process that includes carrying three or so sources from each tech category in bringing technologies to his clients. Depending on the size of the installation and type of client, Clancy can count on the involvement of a security executive's IT department and IT technology and infrastructure. But, at the end of the day, the security professional has the best idea of what he or she needs.

For Randy Dinger, vice president at ID Consulting Solutions in Boise, Idaho, it takes a lot of face time in a personal relationship to make partnerships work. I have to experience what the security professional is experiencing. It's that crucial understanding that makes a difference, he notes. The firm specializes in certain areas such as airports. So that means staying up to date with TSA and Homeland Security along with new trails they are blazing, adds Mike Ahl, ID Consulting Solutions' director of security.


Equipment, materials and systems have come a long way. Some clients want to be at the cutting edge and others want more traditional approach, Ahl notes. But the learning curve is rapidly getting there. Dinger sees value in buying cameras with more at the edge, shifting processing away from the server. Buy cameras that have that, he often advises. And think integration.


One client case in point is the Norman Y. Mineta San José International Airport, which has upgraded its security system to a DVTel intelligent Security Operations Center, a completely IP-based video surveillance solution. ID Consulting Solutions designed, installed and continues to manage and expand this cutting-edge project.


A city-owned public-use airport serving the city of San Jose in Santa Clara County, Calif., the airport has seen major improvements and technological advancements in the past few years: upgrades in the operation of jetways and airline gates, ticketing, and baggage claim, as well as updates to the entire airport infrastructure from pipelines to wiring. A new concourse was completed and opened in 2009. In addition, a second concourse has been constructed, set to open early this year.


It had been using an analog video surveillance solution. This IP stage of the project went much more smoothly than anticipated with more than 150 existing analog cameras successfully brought on-line in less than three days. An IP-based solution was the logical way for ID Consulting to design the upgraded system, which includes an access control system from Software House, along with a newly-integrated incumbent Pelco video system.


The system was designed with a dedicated IPTV VLAN with head-end equipment and network switches provisioned throughout the site. All indoor IP cameras are Power over Ethernet, which made for a very clean, simplified installation and saved labor and valuable space for the end user. During installation, it was as easy as plugging in the edge device, IP camera or encoder and discovering that device in the system – then it was up and ready to go.

Handshake Still Works
Bill Doherty, president of Security Install Solutions of Northglenn, Colo., has much in common with Dinger. He sees "partnership plus" in concentrating on sectors and doing your homework when it comes to technology he will eventually bring to enterprise security leaders.

When it comes to the technology, he says he relies on manufacturers, distributors and direct partners and constantly use their training offerings. Among clients, one is deep into various types of cards for identity management so IT knowledge and involvement is needed. IT has come a long way, he notes. Now the IT folks are in the room. It's helpful from a tech perspective and from budget, too, as he notes that often, the IT budget is larger and there is the opportunity for sharing.


Still, when it comes to sharing, it is not often that an enterprise has a long range plan, covering both IT and security, in place. When it happens it can bring the integrator closer as well as save dollars in a stepped approach.


For example, a long term, stepped plan from two Redlands Unified School District (Calif.) high schools was the assignment for integrator Conduit Networks of Temecula, Calif., which has deployed more than 100 IQeye HD megapixel cameras (IQinVision) in an effort to improve school safety and deter possible incidents.


Redlands Unified began upgrading the District's network backbone in 2004. As the upgrade progressed, the school superintendent indicated that he wanted to expand the use of video surveillance and Redlands High School, the oldest high school in California to occupy the same location, was the first targeted.


"By mid-2007, we had the network infrastructure in place to fully implement an IP video surveillance system," says David Massaro, coordinator, technology services for Redlands Unified. Massaro and team requested bids for an IP video system, and they researched a wide range of technologies. After a first successful IP system deployment, the stage was set to implement the District's plans to roll out IP surveillance on their own robust network, with the eventual goal to centralize all video and data back at the District building, while staff monitored their own camera views at each specific location.


Beyond school applications, integration can prove even more complex.


A licensed professional design-build engineer, Rusty Dean, general manager for Ready Electric Co. Inc., of Louisville, Ky., specializes in value propositions that focus on specialty services in the commercial and industrial sectors.


With project management a key skill that should reinforce a relationship with an end user, Dean says he maintains a hierarchy consisting of a department head, sales manager, project manager and on-site foreman; all have the standard levels of project management responsibility and the required technical expertise relative to their positions. However, he also approaches project management in a very horizontal fashion. Nearly all clients have some level of professional and/or personal relationship with all of these individuals, as each shares responsibility with other management members, he says.


With a client's business needs firmly in mind, Jason Oakley, North American Video (NAV) CEO, believes that integrators must be able to demonstrate the practical applications of technology as well as help them quantify and evaluate the cost benefit analysis of an investment. Our role as integrators is not to sell the latest technology, but rather to design, deliver and service sustainable security systems that fit with the client strategy and deliver ROI.

Both Long Term and Project at Hand
Mirroring his integrator colleagues around the country and their buyer requirements, Oakley's firm has a defined process for project management, which emphasizes a long-term relationship approach as well as the project at hand. On his wish list to help clients includes advancements in standards and open architecture platforms will enable clients to extend the life of existing technology while upgrading systems on a phased basis.

For Ron Oetjen of Intelligent Access Systems, Raleigh, N.C., customer service is that bridge between the integrator and end user. But he also concurs with Oakley when it comes to the impact of IT, especially in his critical infrastructure and healthcare business.


Still, the basic mandate to understand the client's business and respond with what is really needed is always – or should be – at the heart of many partnerships. It's what works for Capt. David Baisden of the Oklahoma County Sheriff's Office and Joshua Herron of Digi Surveillance Systems, Pryor, Ok., especially when it comes to Herron's fine focus on high resolution security video. Baisden is currently running 138 Avigilon HD cameras for complete coverage of the jail.


"We had some real issue with regard to our video, which was hard to review" for investigation of incidents," points out Baisden. Working with his integrator, the captain sought technology for ease of installation, since the jail could not shut down, and the ability to monitor and pull up images as well as zoom in on details and compensate for dark areas.


"The system had to be the lifeline for officers working the pods," he says. Prison and jail designs have sought to increasingly restrict and control the movement of prisoners throughout the facility while permitting a maximal degree of direct monitoring by a smaller corrections staff. As compared to traditional large landing-cellblock designs, decentralized "podular" layout are today's template with everyone having their own cell.


"The most important aspect of the tech from Digi was cameras in the right places with the right capabilities. Megapixels can save thousands in litigation," contends Baisden, who identifies Sheriff John Whetsel for his vision and interest in keeping up with technology.

Think Like the End User
Mindset is on the mind of David Shelton, president, D/A Central, Oak Park, Mich. There's an old saying in police work, think like the criminal, he says. Likewise, the integrator needs to put himself in the mindset of the end user and his or her threats. Watch the employee, visitor and customer flow. Where are people coming from and lingering? Shelton sees more clients using security tools for running other parts of their operation for greater buy-in and return on investment. It also makes business sense to step outside the box. When the Detroit Public Schools closed some of their schools, they feared vandalism and metal theft. It placed in technology from Videofied and there have been more than 60 arrests, says Shelton.  
Mass Notification, the Integrator, and You
Enterprise security leaders, especially those at critical infrastructures, schools and colleges, hospitals and in local and state government agencies, now face the need to update and upgrade their mass notification and emergency communications systems. The assignment not only stresses the partnership between end users and integrators but also can bring IT staff and third party telecommunications service firms to the table.

Thomas Condon, senior consultant/solutions manager at SDI System Development Integration, Chicago, has some valuable thoughts on the technology and its purchase and implementation.

• Integration – More clients ask for integration to physical security information management (PSIM) systems and other similar systems. For example, at the writing of this column, SDI is designing a security command center and technologies for one of the largest airports in the world, and they want PSIM integrated with mass notification. This provides a level of situational awareness that is impossible to achieve manually. This integration extends the capabilities of PSIM beyond the organization into the public or outside agencies, making it even more effective.

• SaaS solutions – Because mass notification implementations can be complex, some organizations have chosen a completely outsourced, externally-hosted solution (application service provider). There are benefits, including low initial cost, faster implementation, and flexible scalability. However, there are potential hazards, including higher total cost of ownership (TCO) and inability to customize or integrate with contact lists inside a firewall. A thorough needs analysis and TCO analysis will help discover which option is ideal.

• Hybrid incident management, mass notification – Some products that focus on incident management are starting to incorporate mass notification functionality. While these are not the large-scale, robust systems that would be used by a city, for example, they are usually good for notifying staff within the organization to coordinate response during emergencies.

There are concerns in supporting infrastructure. Aside from the mass notification system itself, the next most important implementation consideration is the phone lines that it will use. They will place an extreme load on the telephone infrastructure, and may overload it. Before implementing, it is important to ensure the following:

• Sufficient line capacity – When planning for an implementation, understand the call load that will be expected for every kind of emergency event. Many organizations require additional phone lines, which can affect cost and schedule.

• A reliable provider – Some phone providers are more reliable and have better capability to meet the high demands of emergency events; check on the provider's reserve capacity and reliability standards.

• Phone line testing – Just because you get a dial tone does not mean that your phone lines are robust enough. Load testing will reveal faults that normal usage will not.

• VoIP – Some Voice over Internet Protocol systems can have difficulty with some mass notification system products; testing is necessary before implementing this scenario.