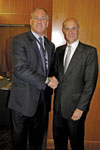 It is easy to be skeptical about the U.S. government having its act together when it comes to security issues. That includes all facets, from the White House to Congress to the myriad organization chart known as the Department of Homeland Security, which will soon consolidate 35 D.C. area locations into one, new $650 million headquarters. But those who took advantage of the recent Security Industry Association Government Summit received a thorough update on all things "national security." 

Perhaps the most impactful speaker was former DHS Secretary Michael Chertoff, who discussed what to expect from DHS during the next five years. Referring to current and recent crises, including 9/11, the Christmas Day 2009 airline bomber, the Times Square bomber and the BP oil disaster, he noted that the public's focus on these issues becomes the priority. "It is impossible to get your agenda through when the public is focused on the emergency situation," said Chertoff. "This is the same for business." As an example, BP's business agenda – whatever it was – is now on hold, if not lost completely.
"The biggest change is a migration to a different security model via the convergence of two separate areas, war fighting by the military and crime fighting by local law enforcement," Chertoff said. "In the past, events were easily sorted into either bucket and budgets; people and tools were different and separate."


Due to travel, trade and communications melding, the unique dividing line of war and crime is gone. "Security has moved from a binary to a quantum model," said Chertoff. "Do we use military or civilian assets? If a terrorist is in Yemen we can kill him. If he is in the U.S., it is not ok to kill him and we arrest him. DHS' goal is to reflect a 21st century approach to security. We need authorities, doctrines and legal tools across the entire spectrum to be effective," concluded Chertoff.


Based on his analysis, here are the critical areas where Chertoff expects DHS to focus its efforts in the coming years.

1. Security that can be employed by military or civilian authorities quickly to make awareness and intelligence available to identify threats and the proactive use of information to take action. For example, recently, the U.S. stopped two individuals going to Somalia to train to be terrorists as a result of this activity. So more fluidity and interoperability between agencies is required and being realized. A second outstanding example of the civil/military merge is the FBI's role in Iraq. The FBI used their expertise to collect fingerprints on the battlefield, database them and match them at borders and airports, etc. While the U.S. did not know who the people were, they knew those prints belonged to a person who raises a red flag.

2. Bio terror sensors and sound sensor technology will continue to be deployed to gain information faster and analyze it for improved situational awareness. The goal is to improve security without slowing processes, so acceptance relies on technology being friendly to all stakeholders.

3. Cyber-terrorism. A secure architecture is required to protect the Internet while enabling service and access.

4. Border security will continue to be a major issue for DHS, Congress and the public. Chertoff said two issues we face include people who entered the U.S. with a valid Visa and stayed, and people who entered illegally. He sees two programs to mediate border issues: track and renew or deport those here illegally (logical security) and fence and other prevention to inhibit entrance (physical security).


Chertoff noted we invest DHS dollars in two ways for our security. One is through great prevention and preparedness for an event, such as terror, that may never be attempted. And two is for less significant events that will happen repeatedly, such as illegal border crossings, and which require constant and consistent preparedness, prevention and response. Creating and applying technology to these challenges is the key to a successful program.


Among the other outstanding presenters was Elizabeth Harman from FEMA. She leads their grant program and she shared insights into how FEMA is awarding funds at the state and local levels to build preparedness and support first responders.


Harman's simple vision for the FEMA Grants Program Directorate and its $4 billion budget is, "To get to 'Yes!' and deliver the funding and support needed."


Most of the FEMA grants go to fire departments and to state agencies, including state level DHS or Offices of Emergency Management. You would think it would be easy to hand out that sort of green. But it is not. Often the grantees underestimate costs, get a grant and then engage the system integrator or contractor, only to learn they can build half a fire station. Environmental red tape can delay a project past the grant's deadline. If the grantee does not seek an extension, the grant is lost.


Harman is making FEMA grant program directorate a one-stop shop with great customer service and transparency for all stakeholders to ensure that preparedness is achieved and funds are well invested.
Harman also has a sharp eye on metrics and measurement. The recently published FEMA GPD Grant Program Accomplishments Report includes the responsibilities to be accountable, but flexible, to enable local authorities to achieve preparedness.


The SIA Government Summit delivered a powerful program that updated all attendees on our nation's security related programs, investments and future goals. The speaker lineup was outstanding and the networking opportunities were valuable. You may want to include the 2011 event on your schedule to better connect your strategic plan with public policy.