Industry Innovations
Video Surveillance
The Top 10 Open Video Management Systems
In the video surveillance market today there is a plethora of Video Management Systems (VMS). Some are unique that serve very niche markets, while others are the dominate players or market leaders, and in between are the up and coming systems that are challenging the market leaders. In all of these solutions there is one principle: to provide a tool that aids the security professional in the efficient and effective use of surveillance equipment.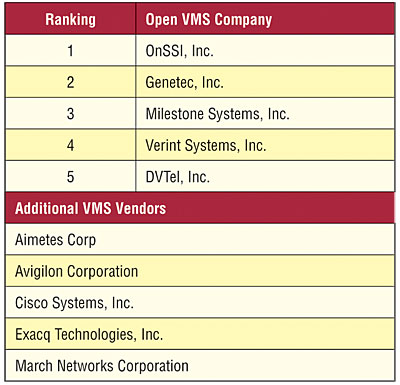 IMS Research has defined an Open VMS as "Open Platform Network Video Management Software products that support a variety of hardware (cameras and encoders/decoders) from multiple vendors and offer the ability for customized integration with other systems or devices using an open platform software development kit (SDK)." In an Open VMS, the goal is to provide a tool that can configure, control and manage video surveillance equipment independent of the manufacturer. Sounds simple, yet it is very complicated due to the proprietary aspects of a majority of video equipment. All of the VMS vendors in this review are to be congratulated for what they have achieved. To create a single tool, or set of tools, that can seamlessly integrate equipment from multiple manufacturers is a herculean task. To make this task even more complicated, they have to test and create updates for all of the new equipment that is constantly being developed and released.
This review presents the Top 5 Open VMS vendors as determined by IMS Research. The ranking of these vendors is based on extensive research by the "Video Surveillance and VCA Group" at IMS Research. The criteria used in determining the ranking is based on sales of software licenses and excludes the sales of hardware, licenses for access control, licenses for video analytics and revenues derived from re-branded/re-wrapped OEM software. Additionally, here are several Open VMS vendors that have a growing market presence, listed in alphabetical order, and that are not included in the IMS Research ranking due to independently verified quantifiable market data not being available at the time of publication.
The VMS Market
The market for open vendor neutral VMS is strong, especially during an economic downturn. The reason is simple: organizations need to maximize their capital investment and tend to open their surveillance equipment acquisitions to multiple vendor solutions. This open competition has a two-fold effect. First, it can drive down the cost of the acquisition. Second, it can create a mixed vendor environment, which drives the increased need and strong growth in the Open VMS market.
The overall IP camera market in North America was relatively unaffected in 2009. Revenue growth remained above 20 percent, and it is expected to improve throughout 2010, thus offering plenty of opportunities for VMS vendors. City surveillance (public area surveillance) is another growth market vertical for IP surveillance. There are many cities/towns across the United States and Latin America that are choosing to deploy video surveillance systems to combat crime. Since cameras are often placed in remote locations, wireless technology is increasingly being used to transmit the video. This essentially brings the video onto the network and provides another opportunity for VMS vendors to sell their solutions. Furthermore, in larger municipalities there is a desire to combine the video surveillance footage with disparate systems such as police dispatch. Again, the Open VMS is well suited to this application as it can be used to bring together different operations under a single interface.
There is also an increasing attention and desire towards networked video standards in the surveillance market. It is likely to be some time before these video standards are integrated into major projects for several reasons. First is vendor adoption. The hardware (camera, encoder/decoder) manufacturers need to develop and offer a full range of standards compliant products. Second, the VMS vendors will need to implement these standards. Last is that the customers and their integration partners. They will need to include these standards within their acquisition requirements.
However, when industry standards are openly adopted and routinely used it tends, to a degree; level the playing field for VMS vendors. VMS vendors won't necessarily be able to compete on the breadth of their video product integrations that they offer. Instead, they will likely develop new and innovative features that make their products more competitive. As the IP surveillance market continues to grow and mature and industry standards become more prevalent, VMS vendors and their customers will reap the benefits.
VMS Vendor Company Summaries
On-Net Surveillance Systems, Inc. was founded in 2002 and is based in Pearl River, New York and offers Internet protocol (IP) based video surveillance control and management software solutions. OnSSI's VMS provides vendor independent camera management, recording and archiving, control-room video-wall management, virtual matrix functionality, and automated video alerts through integration with video content analytics (VCA), access control and physical security systems. Its customer base includes federal, state and local government agencies, as well as enterprise, industrial and educational organizations.
www.onssi.com


Genetec, Inc. was founded in 1997 and is based in Saint-Laurent, Quebec, Canada and offers IP based software that manages video surveillance, access control and license plate recognition (LPR). Genetec was one of the earliest pioneers into the fully IP based video management system. Genetec's VMS is a vendor neutral system for the management of analog and digital cameras, recording and archiving, configurable event alerts via integration with VCA's, access control and LPR. Its customer base spans the public and private sectors as well as education and transportation.
www.genetec.com


Milestone Systems, Inc. is the U.S. based entity for parent company Milestone Systems A/S that was founded in 1998 and is based in Bronby, Denmark. It offers an open and vendor independent IP video surveillance software platform. Milestone was also one of the earliest developers to recognize the potential of IP based video management software. Its customer base includes government (federal, state and local), banking/financial, education (public/private) and corporate enterprises.
www.milestonesys.com


Verint Systems, Inc. was founded in 1994 and is based in Melville, New York and offers both hardware and software solutions. Its VMS software is an IP based system designed to manage digital and analog video, storage and retrieval and provide automated alerts from VCA, access control and other physical security systems. Verint's customer base includes federal, state and local governments, private/public education, retail, transportation and corporations.
www.verint.com


DVTel was founded in 2000 and is headquartered in Ridgefield Park, New Jersey and provides an IP based security operations center that unifies video, audio, access control and alarm management functionality into a single resource. Its client list includes corporations, transportation, federal, state and local government agencies.
www.dvtel.com


Aimetis Corp. was founded in 2001 headquartered in Waterloo, Canada and produces an IP based VMS that supports analog as well as IP cameras from multiple manufacturers into an integrated platform designed to run on standard IT systems. Aimetis serves education, government, healthcare and life sciences, industry, retail and transportation and travel markets.
www.aimetis.com


Avigilon Corp. headquarters are in Vancouver, British Columbia, Canada and it produces an open IP VMS that supports multiple surveillance vendors equipment to capture, manage and store multi-megapixel IP and analog cameras with automated alert notification on-screen (single or multiple consoles) or via E-mail. The company serves airports, casinos, financial/banking institutions, government agencies and retail.
www.avigilon.com


Cisco Systems, Inc. was founded in 1984 in San Jose, Calif. and originally produced IP network infrastructure equipment. Cisco has since expanded its portfolio to include network-centric IT security, VoIP, video teleconference and IP surveillance hardware and software. Its VMS supports analog and digital video management, storage and retrieval of archived video and integration with access control and other physical security systems. Its customer base includes government (federal, state and local), public venues, education, industry and corporations.
www.cisco.com


Exacq Technologies, Inc. was founded in 2002 in Indianapolis, Ind. and makes both hardware and software for video surveillance. The VMS is an IP based open system to manage analog and IP cameras, storage and is designed to run on standard IT computers running either Windows or Linux. Its customer base includes corporate, financial, state and federal governments, education, healthcare, manufacturing, transportation and homeland security.
www.exacq.com


March Networks Corporation was founded in 1986 and is headquartered in Ottawa, Canada and produces both video surveillance hardware and software. Its VMS is fully IP based and supports video equipment from a growing number of manufacturers. March Networks serves banking, retail, mobile, and transportation markets, as well as commercial industrial market segments, such as the corporate and government facilities, public safety applications and education.
www.marchnetworks.com


I want to hear from you. Tell me how we can improve.