6th Annual Top Guard Listing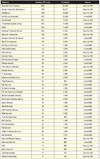 Collected by Security Magazine, Jan. 2009, and from The Security Letter, June 2008


This unofficial matrix, based in part on responses to Security Magazine, also includes data from other sources. Security Magazine does not purport data to be a complete list or one that is up to date relative to 2008 or to reflect correct or changing conditions, actual revenue and employee staffing levels. Security Magazine thanks The Security Letter and Robert McCrie for his listing data from his June 2008 issue. Subscriptions at The Security Letter, 166 East 96th Street, New York, NY 10128. If your firm wants to be listed or to update this listing, e-mail Security Magazine at security@bnpmedia.com. Revenue has been rounded up.