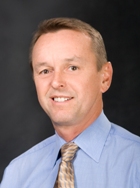 Zalud's Blog has learned that Dean Meyer is Pelco President and CEO. Meyer replaces David L. McDonald, who has served as Pelco President and CEO for the past 20 years. McDonald will continue his work with the company in the role as Chairman of the Board.
"Dean's tenacity, energy, and strong people skills have quickly earned him the respect of all – including me," says McDonald. "I am not just comfortable, but truly excited about Pelco's future under Dean's leadership."
Meyer is responsible not only for continuing the transition and organizational refocus as a result of the recent Schneider Electric merger, but also for ensuring that the true business and value-creation opportunities are realized.
"I am excited about the challenges of this opportunity," Meyer says. "Although it's important to note that obviously we are part of a big corporate company with the Schneider merger, I also think it is equally important to protect those things that have made Pelco so successful in its own right – namely the customer service model, the community outreach, the employee empowerment. So I am very sensitized to the blend of shareholder accountability and the entrepreneurial core values of Pelco."
Originally from Iowa, Meyer graduated from the University of Iowa with a degree in Mechanical Engineering and earned his MBA from the University of Texas. Meyer began his professional career with Texas Instruments, where he spent 11 years in manufacturing, production control, material planning and assembly. In 1993, he joined Control Systems International, which would eventually be acquired by TAC and Schneider Electric. With TAC Americas, Meyer was responsible for a number of operations areas, including manufacturing, purchasing, sales, engineering and marketing. For the last seven years, he was president of TAC Americas and most recently he has served as Pelco COO since November 2007. He and his family have recently relocated from Dallas to the Fresno/Clovis area.
Respected as a major product innovator, Pelco is a world leader in the design, development and manufacture of video security systems and equipment ideal for any industry. Pelco produces the security industry's most complete offering of discreet camera domes and enclosures, access control, digital video recorders, IP solutions – and much more. For more information on Pelco, please visit www.pelco.com.