Go Ballistic Over Moondance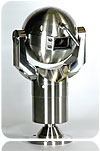 Looking more like a futuristic robot than a camera, the new Moondance Ballistic dome camera from Extreme CCTV features metal ball design and is vandal-proof and hurricane-proof. Its pan-tilt-zoom (PTZ) speed dome is designed for extreme and hostile environments and provides bulletproof PTZ performance. It is constructed of stainless steel, and incorporates a screen wiper and Level 1 ballistic window that both optimizes optical performance and protects from gunfire attacks. Mount it on surfaces, walls, ceilings or poles and capture surveillance images from both above and below the camera.
Find out more at
www.extremecctv.com
or call (888) 409-2288.


I want to hear from you. Tell me how we can improve.