POLICE, SECURITY MOBILITY UPGRADED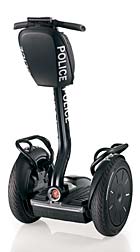 Segway Inc. recently introduced the next generation Segway Personal Transporter (PT), the new Segway i2 and x2, and the i2 Police and x2 Police packages designed specifically for patrol and community policing applications. The new Segway i2 Police and x2 Police feature revolutionary LeanSteer technology that makes riding incredibly intuitive, plus a wireless InfoKey controller that provides a theft deterrence system and real-time trip data. Both Police packages also come fully equipped with a complete set of police accessories.
Sheriff Beth Arthur, Arlington County Sheriff's Office, has equipped her deputies with Segway PTs to enable them to serve court documents more efficiently. "Not only are deputies able to do their jobs more quickly and efficiently [on a Segway PT], but they are also reducing our department's fuel costs and vehicle pollution," says Arthur. "We've been able to take two patrol cars off the street and conserve the taxpayers' money. Everything's working out very well."


I want to hear from you. Tell me how we can improve.