ID Cards Printed In-Office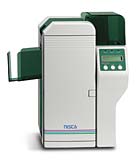 Create corporate and government ID cards, access control cards, transportation and event ticketing cards in the office with a new printer available from Nisca. The Nisca 5350 ID Card Printer features security lamination, encoding options and can print up to 158 cards per hour. With options like MagStripe, IC Chip, RFID and UV printing, ID card replication is virtually impossible.
Links


I want to hear from you. Tell me how we can improve.