Large, Versatile Database for Security, HR and IT Use of Access Control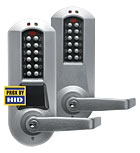 From Kaba Access Control, Winston-Salem, N.C., two new E-Plex electronic access control models can have up to 3,000 access users, and a 30,000-event audit trail. Aimed at the business needs of security and HR, and IT friendly, each lock also holds up to 16 access schedules and 32 programmable holiday/vacation blocks.
For information visit
www.secmag.com/webcard
Links


I want to hear from you. Tell me how we can improve.