IP video, in turns out, is a business decision, not a technology decision. The attraction goes beyond the lure of new technology or even its smoother connection into IT and existing infrastructure.
Enterprise security executives interviewed for this special Security Magazine report on IP video agree that they have been motivated to purchase or upgrade to IP because of the "significant cost savings" over conventional video surveillance, operational efficiencies, equipment reliability and the balance of better control over the total system with the ability to scale down to individual building and application needs.
John Hackett, director of protective services for Orlando Regional Healthcare (ORH), first thought "stepped upgrade" of his analog camera setup but then "ended by rethinking our entire system." The private, not-for-profit healthcare network with 1,572-beds spread over eight hospitals is now migrating from analog video security to an IP-based system, using Sony IPELA MiniDome network cameras in what will grow, according to hospital officials, to be a 500-plus IP camera installation in the next three years

IP all the way
At Delaware State University, Chief of Police James Overton aimed at cost savings and efficiencies with smooth integration of security video and access controls. With the new system, each campus entity would be able to manage its own building while Overton could still control the overall systems' approach.
For Bob Carter, senior technical officer, South Australia's Department of Transportation, traffic monitoring by IP-networked video met his business need for "picture quality, feature set and flexibility to control other equipment."
Hackett noted that once senior ORH officials saw that a capital investment in an IP-based system would deliver significant savings, initial plans for a gradual phase-in of IP were passed over for a broader, immediate implementation with 34 Sony network cameras installed in two garages, and 68 legacy analog cameras carried over into the system through encoders.
Even with the enormous effort invested in upgrades over the years, quality of the analog imaging remained sub-par and unreliable. Also, accessing it was problematic. "The DVR's image quality was low," Hackett said.
These challenges came to a head, he said, at two garage facilities. This required another standalone DVR, and there was no room in the security office to fit an additional unit. So instead, according to Hackett, this new installation would serve as the starting point for a new IP system. IT immediately grasped the IP security concept because they already had IP cameras installed in network closets to keep an eye on equipment throughout the system.
IT buy-in
"Obtaining the IT department's buy-in was crucial. They requested that a parallel network built on a separate fiber optic cable be installed so that this could scale to an enterprise-wide IP security system supporting hundreds of cameras," said Diane Savikas, project coordinator for biomedical/electronics for ORH.
According to Savikas, many of the buildings were designed with network architecture in mind. Data closets conveniently located throughout facilitated a Power Over Ethernet (POE) installation of cameras with Cisco 3750 POE switches. Power and data are carried over the single cable, saving the need for connecting cameras to electrical outlets, she said.
Low cost and return on investment were business reasons driving South Australia's Department of Transport to recognize the value of IP-networked video. This is why they turned to IndigoVision to provide a migration path. According to Bob Carter, senior technical officer, "Picture quality, feature set and the flexibility to control other equipment made the choice easy."
The South Eastern Freeway Tunnel project, specified by Rexel Video, was a good example of how IP video technology can be deployed. The existing security video cameras in the tunnel were connected to IndigoVision's 10-way transmitter/receiver racks. These converted the analog video to MPEG-4, 25fps 4CIF hi-quality digital video for transmission over a newly installed fiber-based network.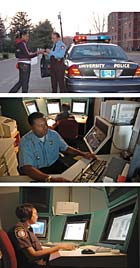 Video part of integrated approach
For Delaware State University (DSU) in Dover, Del., it uses safety as a business differential in recruiting students. So Chief of Police James Overton turned to systems integrator Advantech Inc. of Dover to provide a solution. Advantech, in turn, selected Honeywell as their partner of choice.
Advantech President Eric Schaeffer chose the Pro-Watch Security Management System, a multi-tiered client server architecture, as a multi-campus solution for integration of the university's building and vehicle access control, security video, ID badging, intrusion detection, asset detection and fire alarm systems. With the system, each campus entity would be able to manage its own building. The university's Department of Public Safety, acting as overall system administrator, was given access to all locations to provide security for the entire campus.
To streamline the registration process, the companies worked to integrate the system with DSU's student accounts/HR, dining and library systems. Now when a student registers, a cardholder record is automatically created within the system and dormitory access rights are assigned. To complete the registration process, the student simply walks into the ID Badging Center where his picture is taken and signature is electronically captured.
In response to a need from Public Safety to provide its officers in the field with the ability to verify the status of students and also to confirm if they are eligible for admission to events, the integrators brought in Beacon Technologies to provide a mobile solution that leveraged the companies' system. Working together, they developed a system of mobile hand-held scanners that would maintain cardholder databases synced with Pro-Watch and also function as ticket writers.
By integrating Honeywell cameras and digital video recorders into the system, DSU security was armed with powerful information from close to 200 cameras around the campus. A unique feature of the system was the ability to provide a verification window for the security officers, displaying badge information and live video of the activity. For example, when someone uses the card reader at the point of entry, the badge photo comes up on screen at the dispatch center, as well as live video of the event. With this information, the security officer was given the ability verify that the person entering the door was the same person on the photo badge.
The benefits
The integration of the system with the student accounts structure saved the university thousands of hours per year in data entry and wasted time. "Instead of running multiple independent systems, the card holder record only has to be entered once," said Schaeffer. "Not only does this save time, but it dramatically increases accuracy since it ensures the card holder's record is identical throughout all the systems."
The integration also provided an increased security level. Once an entry was made in the Student Account/HR system, that individual's access rights could be automatically cancelled within the system, quite useful in cases of student expulsion or the retirement of a staff member. "In the past, a cancellation was contingent on an administrator remembering to call Public Safety to cancel the individual's access rights. If it was forgotten, then that person could have access rights indefinitely," said Chief Overton.
The handheld scanners also helped save time in the field. For example, during a campus event, Public Safety could set up admission points anywhere on the perimeter of an event and quickly admit authorized students.
With video surveillance in place, campus police were able to make several arrests of students who were caught breaking into the residence halls. "We were able to capture the event on video and make a CD of it," said Overton. "Knowing most of the students, my officers were able to identify them right away – that's how clear the video was. We made an arrest within hours and were able to show the video to parents during orientation to demonstrate how we are protecting their children." v