It's a challenge. How can an organization which wants employees to roam its facility and interact also make sure that appropriate door access controls are in place?
Best Buy has found what it feels is the best way to meet that challenge.
The new Best Buy corporate campus in Richfield, Minn., boasts an atmosphere of accessibility to foster open exchange of ideas. Yet it also is a secure facility in which the company's growing staff can work safely. By limiting access to a selected few secured points, the company ensures that only authorized individuals can enter. Once inside, access controls are limited to allow optimum mobility and interaction among employees. A combination of door hardware components works together to secure openings and provide various types of protection, with appropriate use of card readers to validate identification for those attempting to enter and provide audit trails to monitor after-hours access.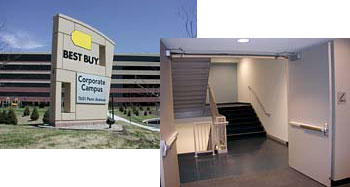 Growth Drives New Facilities
Best Buy Co. Inc. is the nation's leading retailer of technology and entertainment products and services. Founded in 1966 in St. Paul, the company now reaches hundreds of millions of consumers each year through more than 700 retail stores in 48 states and online. Annual revenues from continuing operations currently exceed $20 billion.
As the company grew, it moved to an existing building in Eden Prairie about six years ago. After expanding to more than 300,000 square feet of office space there, it continued to grow and eventually had offices in 14 separate buildings scattered around the suburban Twin Cities area. The company then decided to build a central corporate campus to gain operating efficiencies and enhance opportunities for personal interaction among employees.
The site search led to selection of a 35-acre property adjacent to I-494 in Richfield. The company worked with Opus Northwest of Minnetonka on system development. Steven Lipschultz, AIA, associate manager-architecture with Opus Architects and Engineers, says, "Our charge was to provide approximately 1.4 million square feet of office space, connect that office space with some type of a concourse that would allow people to get back and forth under cover and then connect these to a parking ramp for almost 6,800 cars." The result was a complex of four buildings arranged in a non-geometric layout around a central area known as the Hub. It includes two eight-story buildings and two six-story buildings. "It's non-hierarchal, not like the typical headquarters with the executives at the top of the tallest building. This is a very value-oriented facility because that's the way the Best Buy stores are," Lipschultz explains.
Designed to accommodate 7,500 people, it incorporates all Best Buy offices except call centers, print shops and similar service functions. The first building was completed in December 2002; by May 2003, approximately 5,000 people had moved to the new center from the company's previous locations.
According to Best Buy's Campus Construction Manager Chris Johnson, "This environment encourages our people to interact. It's like an airport concourse, where people meet other people whenever they are going some place. Stairwell meetings and impromptu discussions develop. From the parking ramp, you have to come through the Hub lobby to get into the buildings, so everyday every person has to cross the Hub at least twice a day. All these things encourage interaction."
Access for the public from outside the complex is only through a main entrance, staffed by security. Card readers control access to the parking ramp and also at two secure locations in the central Hub. "It's a way to monitor that employees have their badges in just these locations instead of scattered locations around the buildings There are no controls on people moving around once they are in the building, no locked rooms. The idea was that our people could go anywhere after they get inside," Johnson says.
Stairwells are extra-wide to encourage people to take the stairs rather than the elevator from one floor to the next. "The stairwells have large doors, and we wanted to keep them open. From a building code standpoint, you normally can't keep them open, so we put magnetic hold-opens on a lot of these doors and tied them to the fire and smoke alarm system. The idea was to keep the facility as open as we could while also providing the rated separations and closed doors for fire and smoke protection," Brian Pedersen, AIA, Opus senior project architect, notes. Although not commonly used on stairwell doors, a similar arrangement is typical on cross-corridor smoke and fire doors in schools and other public buildings.
Because vendors often hold trade shows on the main floor of the Hub to exhibit their electronic products, the stairwell doors into the office buildings are closed and locked for security after business hours. A card reader then controls access to the stairs and elevators by unlocking the lever trim of the Von Duprin, Indianapolis, E992L exit device when an authorized credential is presented. To meet building code requirements for fire department access, a switch in the fire command center can unlock the lever trim on all the high-rise office building stairwell doors to provide emergency access.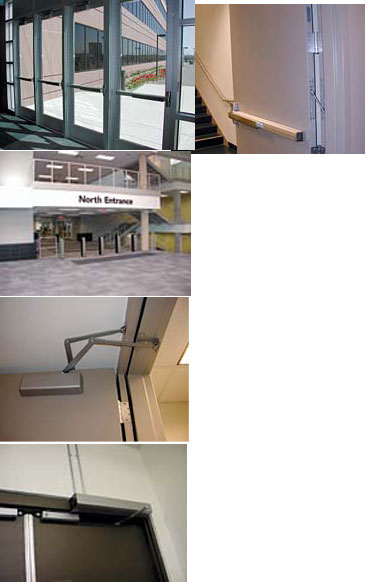 Making It Work Together
During building construction, wiring for the electrified hardware was coordinated with a security system integrator who installed security cameras and card readers at entry turnstiles and exterior doors. This made it possible to minimize the number of conduits by combining both systems whenever practical. At the same time, careful planning enabled some power supplies to be used for door hardware on all floors, reducing the number of power supplies required.
Doors leading to the mail room and loading dock areas use different hardware arrangements for security while maintaining accessibility. A double-door opening between the corridor and mail room uses Von Duprin EL (electric latch retraction) exit devices, which provide safe emergency egress. The doors also are fitted with LCN 4642 power operators for easier cart accessibility as well as a card reader on the exterior side. Both doors are normally held closed and locked for security purposes. Activation of the card reader from the exterior or an actuator from inside will shunt an alarm and open the doors.
A double-door opening to a hall from the loading dock includes the same exit devices, power operators and card readers as the mail room but also use Locknetics, Forestville, Conn., electromagnetic locks. Both doors are normally held closed with the exit device latchbolts retracted and are locked by the maglocks. Activation of card readers on either side of the door will shunt the alarm, de-energize the maglocks and open the doors. Activation of the fire alarm system will immediately latch both doors and de-energize the maglocks, allowing free egress while providing the necessary fire door protection.
"Exterior doors are equipped with position sensors as well as card readers," Beth Duyvejonck, Opus project manager, says. "This prevents someone from blocking a door open. Because they have 24-hour guards and security cameras, they can look at an entry if an alarm goes off." Additional doors are for emergency egress only and are not equipped with card readers or exterior hardware.
Approximately 1,400 removable core locks are in place throughout the building interior, George Boomer, Jr., president of hardware distributor Twin City Hardware, Oakdale, Minn., notes. "Originally, they were thinking it would be less expensive to use a standard core system," he says. "After looking at the labor savings of changing removable cores instead of rekeying standard cores, they realized the removable cores were the better value."
Interior door locks all use the Schlage Everest keyway. "We didn't need the highest security level inside the building, but we wanted a system where the keys would not be readily available," Best Buy's Johnson says. The patent-protected keyway minimizes the possibility of unauthorized key duplication and makes key control more certain. Each of the buildings is keyed under a separate master so keys can be controlled for services like cleaning, food service and maintenance. "We needed to handle the need for cleaning people to be in almost every area but still keep them isolated by building. That way, if there was a security issue, we would be able to isolate it down to who carried the keys for that building," he adds.