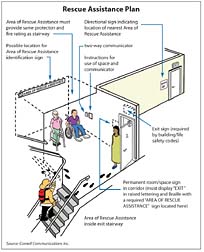 The prospect of meeting exacting demands of the Americans with Disabilities Act (ADA) may be daunting for building owners and property managers, especially those facing their first experience with the requirements. Detailed and intricate, the mandates for ADA's Area of Rescue Assistance in multi-story buildings mean extra time and cost to do everything correctly.
However, there are cost-effective turnkey systems available that meet the letter of the law while transforming building compliance into a simpler project.
Make no mistake about it; providing an area and a means for a disabled person to request evacuation assistance in an emergency in a multi-story commercial or public accommodation building is the law. As per Title III of the Americans with Disabilities Act, Section 7.5135: Areas of rescue assistance are generally required on each floor, other than the ground floor, of a multi-story building. Specific requirements are provided for such features as location, size, stairway, width and two-way communications.
"The underlying intent of this law is very noble, as it is meant to save lives," says JJ Johnson, president of Cornell Communications Inc. of Milwaukee. "Imagine a handicapped person trapped in a building when a fire breaks out. If the elevators aren't safe to use, then that leaves only the stairs. But if that individual can only get around in a wheelchair, then obviously they can't get down the fire escape. That person would have to find a place to wait until someone came to the rescue. There has always been this terminology of Area of Refuge, as the area around the stairwell, but the new law added that you now must put in some means for the disabled to communicate to rescue personnel that they are stuck and they need help," says Johnson.


The Law of the Land
Fortunately, the actual floor space for an Area of Rescue Assistance often exists within compliant stairwells as per state and local building and fire codes. What the federal law and court decision add to the mix is signage and a means of electronic communication. Section 4.311.4 of the ADA Accessibility Guidelines states: A method of two-way communications, with both visible and audible signals, shall be provided between each Area of Rescue Assistance and the primary entry.
Note that it isn't enough to simply have a means for a disabled person to sound an alarm. There must be two-way communications so that, for example, a fireman at the building entrance can confirm to a stranded disabled person that help has arrived. An audible tone can suffice, but voice confirmation is preferred. A visible means of confirmation is required as well, as not all individuals can hear. Here, a flashing light proves sufficient.
Naturally, these communication installations must act in a fail-safe manner and be installed according to code. A State of Oregon-issued "Building Codes Division Staff Technical Advisory" of October 1, 2002 provides a textbook example: Area of Rescue Assistance Communication systems, whether supplied by a Class 2 power supply or by line current, are required to be certified. The same advisory points out Section 700.3 of the National Electrical Code, which requires approval for all equipment used on emergency systems.
Signage that directs disabled individuals to the nearest Area of Rescue Assistance within a building also falls under the scrutiny of the law. Section 4.30.2-3 of the federal Accessibility Guidelines states: Letters and numbers on signs shall have a width-to-height ratio of between 3:5 and 1:1 and a stroke-width to-height ratio between 1:5 and 1:1.


Local Codes
Local ordinances back up these specific requirements, as witnessed, for example, in Illinois by Sections 13-76-076 of the Municipal Code of Chicago that mandates: Each area of rescue assistance shall be identified by a sign which states "Area of Rescue Assistance"… . Lettering shall be permanent and comply with Section 4.30 of the Americans with Disabilities Act Accessibility Guidelines.
"Some states are enforcing compliance more diligently than others, yet a building owner can hardly afford to bank on leniency at the local level," notes Dale Austin, a sales rep with C&B Sales Associates, LLP. "Here in Charlotte, North Carolina, it's the local building inspectors who seek compliance. There are fines to pay if it is discovered that you don't have it [proper lettering] in. The biggest argument I use when I engineer jobs for customers is, 'you've got to have it. It's a matter of pay me now or pay me later.'"
Unfortunately, the "pay" part can prove quite painful, as evidenced by Section 8.4000 of Title III that says: The Department [of Justice] may bring a civil action in any appropriate US district court… . The court may award monetary damages that include all forms of compensatory damages, out-of-pocket expenses and damages for pain and suffering to individual victims of discrimination. Also, the court may assess a civil penalty against the covered entity in an amount not exceeding $50,000 for a first violation and $100,000 for any subsequent violation.
Given that federal, state and local governments are serious about enforcing this issue, it behooves any building owner or manager to apprise themselves on conditions within their properties.
"It's the architect's responsibility to be code proficient, because we're the ones who seal and sign the drawings before they go to the local agency for review," says Mark Zimmerman, an architect in charge of business development with ZDG of Milwaukee. "The fire inspector identifies that when there are stairs to navigate, there need to be areas where disabled persons can be secure while emergency personnel make their way there. So we need to bring this to the building owner's attention first."
Of course, all this "attention" goes straight to the bottom line. "The cost of compliance is not initially always on the radar screen when an owner budgets for a new building," continues Zimmerman. "Even with existing buildings, they all have to be brought up to code when any major remodeling takes place. Sometimes it requires additional structure that wasn't originally planned for in the budget. Those surprises happen and we have to navigate the owner through the code and say, 'You don't get anything else until you provide this.' It's that important."
Additionally, one other significant factor promises to encourage increased compliance. "Let's not forget that insurance companies are pushing this as well," Austin points out. "If I'm incapacitated and I get hurt in your building, and if rescue assistance products are required and they're not installed, then the building owner has huge liabilities to face. This is not something to put off until next year, because then an owner has a whole year of facing increased liabilities and insurance expenses."
Architects, building owners and contractors can all turn to what is referred to as "rescue assistance systems" for compliance with the federal law and local building codes. Some of these turnkey systems include all the necessary communications equipment and signage in one complete, easily installed package to facilitate meeting the letter of the law.
A brief examination of the certified, rescue assistance system by Cornell Communications sets a good example of how these systems are configured for ease of operation and installation.
The heart of this system is the "control" panel, which is usually wall-mounted on the ground floor near a main entrance. This is the point where a firefighter would first enter to check the status of people still in the building. An 18-guage wire that supplies 3 Amps from any 120-volt AC line is sufficient to run the power supply. A single control panel can support up to 20 rescue assistance areas. Each area is clearly represented on the control panel by a written description of its location within the building, an LED and a switch that activates two-way communication. The control panel also includes an alarm that emits a minimum sound level of 90 decibels (at 30cm). Via this panel, rescue personnel can confirm arrival and initiate two-way conversation with an area of rescue assistance.
At each rescue assistance area a small "station" panel is mounted on the wall. It communicates with, and receives power from, the control panel via 22-gauge wire installed in raceways throughout the building (conduit, if required, is 1/2" minimum). Each station panel has a switch to send a distress call to the control panel. A flashing LED and audible alarm let the user know that the control panel alarm has been activated. The panel allows a stranded individual to speak to rescue personnel without having to activate any additional switches to carry on the conversation.
When the emergency is resolved, the central station operator pushes a reset button that restores the entire system to stand-by status. In the event of a wiring fault, each annunciator button is equipped with a yellow LED that illuminates while an alarm sounds identifying the area requiring service. An optional battery operated back-up power supply takes over in case of power outage.


Easy Installation
Today's systems are relatively easy to specify and install. "The Cornell system is kind of a painless fix," says C&B's Austin. "It is a real easy line to specify. When we get a call from a building owner, we simply walk them through a matrix and point out which parts they need."
Bob Boise, a sales engineer and consultant for Dobil Laboratories, a full-service security and fire, audiovisual systems integrator, based in Pittsburgh, points out that such systems require little afterthought once installed.
"Cornell is simple and straightforward in their architecture," says Boise. "Electrical contractors can then install it right out of the box with a wire-pull connection diagram that I provide."
The ease of use of these ready-to-go systems extends to those building owners that wish to integrate them into their existing security system.
As a result of turnkey systems and an increased awareness of the law, complying with the ADA guidelines is gaining in acceptance and practice.