Utility's Monitoring Software Improves Efficiency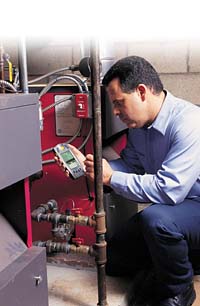 Since 1878, the Massachusetts Water Authority has pumped clean water to the citizens of Eastern Massachusetts from a station in Chestnut Hill. Of course, the station has managed to upgrade with successive technological advancements. It's fitting, then, that the Information Age provided the Chestnut Hill station with a categorically 21st century improvement: monitoring software to streamline security reporting.
The software, Inspection Manager by Tiscor of Poway, Calif., records and tracks regular inspections at all of the Water Authority's pumping stations. It is responsible for documenting hourly tank elevation levels and other security and environmental readings three times a day at each of the pumping stations.


Replacing Log Sheets
Stations within the Water Authority's system possess between two and eight pumps.. Before implementing Inspection Manager software, operators used huge log sheets to record partial pump information at each station. These log sheets were filled out every morning and included electrical readings and tank elevations. Since the old sheets were kept at the station, the Senior Program Manager only received weekly status reports – he never had access to daily readings. Now, the system enables the Water Authority to collect a larger amount of detailed information that the management team can access at a moment's notice.
Occasionally, the Water Authority also uses the system to assist other departments in their own regulatory monitoring. The software performs hourly checks to regulate valves and monitor meters and pressure levels on various pipes when temporary work is performed.
Just before large snow storms, a frequent occurrence for Eastern Massachusetts residents, the Water Authority's management team typically requests an accurate reading of the fuel levels in each of the storage tanks. In years past, this would require allocating workers to immediately go out and obtain current readings on handwritten log sheets. As the Inspection Manager system regularly gathers this information, today, the Senior Program Manager simply logs onto the computer for an update.
That same Senior Program Manager for the Massachusetts Water Authority, Paul Kelly, provided a glowing appraisal of the new system. "Tiscor's Inspection Manager software system replaced our handwritten inspection logs with a precise, computer-driven system…Our operators were very resistant to change when we first incorporated the system. Now, they prefer it. They'd never go back to the log sheets."


I want to hear from you. Tell me how we can improve.