Flashing LED & Alarm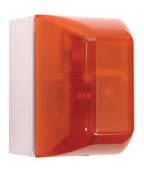 "The new STI Select-Alert is not only a highly effective way to protect important devices, but it can also help alert anyone of an urgent situation," said John F. Taylor, STI executive VP. Select-Alert can be used as a multipurpose strobe and alarm, offering a choice of 32 distinct tones, which allows its uses to be virtually limitless. Select-Alert (STI-SA5000) can be used as a cabinet alarm, door/exit alarm, flashing light linked with a push button/switch, tornado siren, burglar alarm or an alert for any type of emergency situation.


I want to hear from you. Tell me how we can improve.