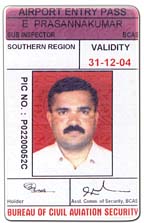 A buyer of a high performance car expects to use high performance supplies and parts with it in order to get the best results. That same approach applies for a high performance, high security printer.
Several new counterfeit-resistant cards, protective laminates and printer supplies are now available on the market.
It is now possible to implant a tamper-resistant hologram within the layers of plastic cards for added low-cost security. This feature is part of the inner layer of the card and cannot be scratched off or removed. The hologram incorporates a visible and ultraviolet pattern or logo that becomes part of the background of the white card, allowing printing and laminate to be applied directly on top of the hologram.


Pre-printed text
Card supplies can be custom ordered with pre-printed text that can only be read with magnification or UV exposure. This makes the cards very difficult to duplicate or photocopy, resulting in a higher level of security. Options include pre-printed micro text, nano text or UV text.
Ultraviolet-visible text and graphics are available in two colors, green and blue. With micro-printing, text can be added to a user's specifications, with deliberate random font changes and misspellings if desired. Character height is 5 thousandths of an inch (0.125mm). Laser etching is another option.
The inner surface of the laminate can also be pre-printed with OVI ink or UV-visible ink in one, two or three colors.



Opacity marked cards
These cards also provide a tamper-resistant printed image within the layers of a plastic card. This printed image acts as a watermark, only visible when held directly in front of a bright light source. With color-shifting ink cards, a single image changes from one color to another, adding yet another layer of security. This feature, too, is part of the inner layer of the card and cannot be scratched off or removed.
Pre-printed serial numbers
Card serialization can also be incorporated into card stock. Printers with a magnetic stripe encoder, proximity encoder or smart card contact options can be set up to function only with serial numbered card stock.
With card serialization, all cards supplied to an organization using this system are pre-printed on the front or back with a serial number, which is also recorded on the card's credential medium, such as magnetic stripe, proximity chip or smart card integrated circuit. The ID card printer is configured to accept only serial-numbered cards, and will reject, without printing, any card without the appropriate encoding.


Protective laminate ribbons
Protective laminate ribbons are now available for security-focused printers. These printers can automatically apply a thick protective laminate to cards. The protective material is applied directly to the card to prolong the life of the printed image by shielding it from UV light (fading of image), preventing dye-migration and reducing normal wear from handling and frequent swiping of the card through magnetic stripe readers.
Hand-applied, peel-and-stick these laminates come in pre-sized patches that are easily applied to printed cards, providing additional security for low-volume applications.


RFID technology
A printer with RFID (radio frequency identification) technology takes both simplicity and security a step further. Printing systems that incorporate RFID technology minimize the need for user intervention. For example, RFID enables automatic driver configuration, automatic ribbon type detection, enhanced image quality, "load and go" operation, ribbon low notification and more accurate color printing. RFID technology also ensures that only authorized material can be used in the printer.
A growing number of government agencies and corporations around the world rely on in-house card printers for demanding, high-security applications, including the production of identification badges and millions of driver's licenses each year. It is critical for these organizations to use supplies that create more highly secure cards. New products that are now on the market can help meet this need.
And it is essential to take action to increase the security of identification cards and badges. Corporate security and law enforcement officials now report an increase in counterfeiting of IDs. There is also growing and troubling sales of cards, badges, accessories and other identity products through the Internet. Homeland security efforts in addition pressure for more security on cards and identification documents.



Sidebar: Trucks to Get ID Cards?
A Georgia Southern University professor, Bob Cook, wants to create a nationwide system based on radio frequency identification (RFID) devices at truck weigh stations and law enforcement vehicles to gather information for a national truck tracking center.
There are numerous existing applications and experimental projects involving RFID. Cook would take the technology a step further by creating a nationwide network of readers installed in government and highway facilities as well as law enforcement vehicles.
Georgia Southern University computer science professor Bob Cook displays a radio frequency identification device that he proposes could become a key element in both homeland security and a national truck tracking system. Photo courtesy: PRNewsFoto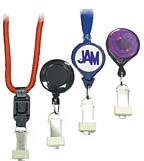 Sidebar: Clamp Kills the Slot
Some organizations issue identification and proximity cards with a slot in the card. There are ways to forget the slot, save the slotting cost, provide more convenience to cardholders and higher security, too.
One solution is card clamp end fittings for lanyards and retractable reels from J.A.M. Plastics of Anaheim, Calif. The product first was designed to grip ID and prox cards without the need for a slot in the card. This year, J.A.M. Plastics redesigned it with a metal casing to give it greater holding strength – now with over 10 pounds of holding force. For Security magazine readers, get a free sample through sales@jamplastics.com.


For More Information
Information for this article comes from Bob Anderson of Zebra Card Printer Solutions, Carmarillo, Calif. More information on identification card systems and accessories is available through the LINX service, powered by Google, on the Security magazine Web site at www.securitymagazine.com. To contact Anderson, go to the Zebra Web site at www.zebracard.com.