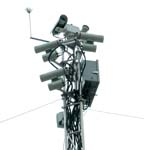 Towers for Homeland Security
New Heights Manufacturing Inc., Quantico, Va., announced during the federal government's Force Protection Equipment Demonstration, that it had become a qualified manufacturer of a new integrated sensor suite tower in its Sky Watch family that can provide force protection and force multiplication capabilities for military and security forces around the globe.
Cerberus, a joint effort between the company and U.S. Army Night Vision Labs in Ft. Belvoir, Va., is a portable, stand-alone all-integrated sensor suite tower that combines ground surveillance radar with thermal/day cameras to extend the eyes and ears of field forces.
Cerberus utilizes a two-way wireless link for sensor commands, and data flow networking of multiple towers can quickly and efficiently provide perimeter coverage with singular monitoring from a central location. Currently, seven towers are networked and providing perimeter security around a critical military asset.
"Cerberus offers detection and assessment capabilities that multiply field forces and help reduce manpower requirements," said Adam Strange, president of New Heights Manufacturing. "Made up of different cameras and sensors, it provides day or night standoff detection and assessment at distances in excess of 300 meters. It increases user efficiency, reduces manpower for similar coverage and enhances decision and response time."


ACC Enhances Security at 2,040 Chemical Facilities
In the aftermath of Sept. 11, the American Chemistry Council 140 member companies have taken extraordinary measures to secure all 2,040 facilities they operate. The feat was accomplished through the adoption of a mandatory Responsible Care Security Code of Management Practices for all member facilities. The code included vulnerability assessments, security enhancements and independent verifications. As of publication, the companies had invested over $2 billion in security upgrades, with more expected.
ASIS Salary Survey
The highest paid U.S. security professionals received pay increases in excess of 11 percent, while their more modestly paid colleagues received less than five percent over the same period, according to the ASIS U.S. Security Salary Survey Results - 2004. Visit www.asisonline.org.