The Bay Club is a 1,037-family residential condominium apartment complex in the New York City borough of Queens. Located in the neighborhood of Bayside, and managed by John B. Lovett & Associates, the building overlooks the Throggs Neck and Whitestone Bridges, Long Island Sound and the Manhattan skyline. An Olympic-size swimming pool is protected by a two-story glass enclosure with a sliding roof. Other amenities include four outdoor tennis courts, indoor racquetball and handball courts, a golf course, and inside and outdoor basketball courts. Apartments feature fantastic views, hardwood floors, marble baths, sound retardant walls and individual room-by-room control of heat and air conditioning.
The apartment complex recently completed an upgrade of its security system that saved it hundreds of thousands of dollars in installation costs. The retrofit, by New York-area security integrator Nortronics Corp., added new capabilities and reliability, and made full use of the tens of thousands of linear feet of existing wiring that had been installed with an original system.



Throwing out the existing wiring, or alternately rewiring the entire complex could have added approximately $350,000 to the project's cost. Dozens of buildings installed similar systems in the 1970s and 1980s, but let them fall out of use due to a lack of parts and maintenance. Nortronics was able to make them work again by customizing a retrofit and upgrade.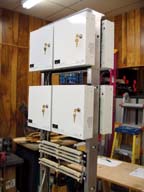 Replacing obsolescence
The original existing alarm system was almost 25 years old. Known as an intrusion alarm, it was managed by a keypad in each apartment and was similar to systems commonly found in single-family homes.
"The problem with this type of system is that parts aren't available when it needs to be repaired and the system becomes unusable," said Maria Gonzalez, vice president of Nortronics. "But we use the existing wiring to make them work again, and with more capabilities than before."
In the retrofit, the company brought the existing wiring in each building down to a central point in the package room and connected it into a computer-based alarm system. The old six-sq. foot panel at each concierge station was replaced. The new model incorporated LCD screens small enough for two to fit in a shoebox. Yet despite their diminutive size, the screens could control the entire system for each building.


For More Information
Nortronics has over 38 years of experience in the security industry. The company designs, installs and maintains a comprehensive range of security systems for commercial and residential clients. Nortronics provides clients with network-based security video systems, as well as access control, alarm, security video, intercom, mailbox, telephone access and master antenna systems. Visit www.nortronics.com for more information