Life Safety Upgrade Begins
Resurrection Medical Center in Chicago is taking a giant step toward enhancing the safety of its patients, staff and other assets. With help from Milwaukee-based Johnson Controls, it has begun the complicated process of upgrading and replacing its aging fire detection system with a state-of-the-art addressable system that shows responders exactly where the alarm is located.
"I don't think I realized what a big, big undertaking this was going to be," said Gary Curtin, the director of facilities and who has been with the Medical Center for 27 years. In a 434-bed hospital, replacing the old system with as little disruption as possible to the daily operations provides a unique challenge. But it will be worth it.
The old system was installed nearly 30 years ago.
Over time, the hospital made several additions to the system, enabling it to continue meeting the hospital's needs. But the time had come to replace it. Maintenance had become an issue and the hospital had outgrown the system. "We needed more devices, a system with room to grow," explained Curtin.
With addressable analog detection, the new system pinpoints the exact location of the device that triggered the alarm. "This system is expandable to our needs, making it easy to add to it as we grow. We used to have to improvise the old system to accommodate our growth," said Curtin.
The overall solution involves integration with the other building systems. Through the Metasys building management system already in place, building systems such as the HVAC and elevator controls will be able to react automatically to an alarm situation.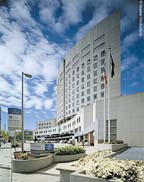 Network Video at Hospital's Security Heart
More than 100 network cameras have been installed at Swedish Hospital, Seattle, Wash., in an upgrade from analog that involved Axis Communications (Chelmsford, Mass.) technology and its channel partner Convergint.
The installation initially started on the hospital's main campus, called First Hill, and their second campus, Providence. It is expanding to include several remote clinics. Convergint installed 28 Axis 211 Network Cameras at First Hill and 40 Axis 211 and Axis 232D Network Cameras at Providence. Convergint recently expanded the project through an installation of 28 cameras in an emergency center 30 minutes away and another 16 cameras in a garage facility.
All of this is networked back to five access control and video servers.



Command Console a Key Element
When it comes to life safety in a hospital or healthcare setting, security and public safety executives face difficult and unique challenges. Threats range from the traditional – unauthorized access and business theft – to the unique – wandering patients and infant abduction.
According to systems integrator SimplexGrinnell, Westminster, Mass., a key facet of an overall plan can be an integrated systems command console as the platform for monitoring, management and response. An integrated command center brings together, to a single point of control, an array of critical technologies and applications – infant protection, graphical maps, asset tracking, security video, digital video recording, access control for event management and response, and fire alarm messaging and voice systems. By integrating the infant protection system into the command center, hospital personnel can track a baby's whereabouts at all times, whether in the maternity ward or receiving services in another area of the building.
Most often, the command console is pre-programmed to provide a detailed, step-by-step response to specific scenarios, such as an infant abduction. This eliminates guesswork and the potential for error, enabling operators to quickly and effectively interdict and resolve a potential infant abduction or other emergency. In this way, the integrated console builds efficiency and consistency.


On the Cover: Screening for High Security Labs, Healthcare Facilities
There's avian flu, antrax research and more. Today, high security laboratories, healthcare research facilities and government operations have increased the level of screening of people coming and going.
Technology has responded. An example is on the cover of this special report. From American Science and Engineering (AS&E) of Billerica, Mass., SmartCheck screens for contraband and threats hidden under a person's clothing. Its capability goes well beyond that of metal detectors because it simultaneously detects both metallic and non-metallic objects, such as guns and knives, plastic explosives, composite weapons, drugs and other hidden threats and contraband. And its photo-like Z Backscatter image gives security an easy-to-read display of where the threat or contraband is hidden, thus eliminating the need for intrusive and time-consuming pat-down and strip searches. It is easy to use and depending on the operating mode, the system requires only one or two operators. The SmartCheck system is safe for all individuals and complies with all applicable U.S. personnel scanning regulations. An optional privacy filter protects the privacy of screened persons and still effectively displays threats.



Speco Names Director of Sales
Speco Technologies, Amityville, N.Y., said that Dominic DiBari is director of sales – sound & communications. In his new role, DiBari will focus on growth and support of commercial and residential audio sales.
Iris Meets Contactless Reader
LG Electronics USA's Iris Technology Division told Security magazine that it would embed Indala's multi-platform FlexSmart technology in its upcoming IrisAccess 4000 iris recognition products. Embedding in the contactless reader should enhance security for applications from entry-level access control to enterprise ID management. Some hospitals now use biometrics to protect and create an audit trail for in-house pharmacies and controlled substances.