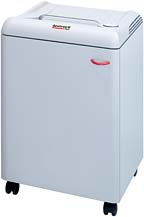 When Ron Mason, president of Rohn Industries, St. Paul, Minn., saw the 200 horsepower shredder during a visit to Allegheny Paper Shredders in Delmont, Pa., he quickly decided. "I wanted one just like it."
He and the unit's manufacturer didn't let a lack of end user wiring kill the purchase. Allegheny offered to ship the shredder with a 125 horsepower motor, then replace it with the "200 horse" when Rohn was in a new facility.
When it comes to shredders, big is beautiful. But so is matching the type of machine, its throughput and kind of shreds created to the needs of the customer.
The monster shredder at Rohn, with a 200 horsepower motor and auto-feed system, can destroy 25,000 lb. per hour.



Super-sizing also is important when it relates to collections bins.
Two new shredders from Security Engineered Machinery (SEM) of Westboro, Mass., boast up to ten times the bin capacity of typical units. They can hold 68- and 90-gallons, respectively. The bigger capacity reduces the frequency of waste disposal. Waste falls directly from the cutting head into the bin, which has wheels. Security can choose a strip or crosscut unit.
As shredders move out of the basement and into offices and remote locations, good looks and safety play a greater role.
MBM Corporation of North Charleston, S.C., designed such features into its Destroyit 2501 mid-size paper shredder. Available in strip or crosscut models, the unit has rounded edges and a contemporary, compact design. A single, oversized control switch features optical signals for operational status: start (green light), stop (red light), bag full and jam. An electronically controlled safety shield will shut the machine off when activated. The shield will also prevent shards of plastic from flying out of the feed opening when shredding CD's or credit cards.
There are document destruction services that come to client sites to shred sensitive material. And there are off-site secured storage services.
But a long-time player in armored vehicles for banks, Brink's, has recently niched into secure data solutions to help security operations protect their organization's confidential information during transport, storage and destruction.
Traditionally, Brink's provides door-to-door secure transportation for cash and valuables, currency and coin processing, virtual vault solutions, document destruction, and a host of other security services that help companies better manage risk.
"Customers reach out to us for our risk management expertise," Shai Anbar, senior vice president of Brink's Global Services, tells Security magazine. "Standard overnight couriers and off-site storage companies simply aren't equipped to handle the intense security challenges associated with protecting data tapes and other offline information media.
"Companies spend millions on encryption to make it difficult for thieves to access confidential data," adds Anbar. "Yet they fail to address the security of the data media while in transit. Our services protect the physical media from getting into the wrong hands.


Sidebar: The Right Shredder
Basically there are two types of shredders: strip- and cross-cut, according to MBM Corporation, North Charleston, S.C. Each produces a different size shred, so choosing one over the other depends on the degree of security a company is seeking.
Strip-Cut Shredders – Strip-cut shredders shred documents into narrow strips ranging from 3/32" to 1/2" depending on security level required. Strips are equal in length to original document. Strip-cut models are generally less expensive than crosscut models and have a higher sheet capacity.
Crosscut Shredders – Crosscut models shred documents in two directions for extra security. Shred sizes range from 5/16" x 3" to 1/32" x 3/16". Smaller shreds also mean less frequent bag changes.