The advent of IP-addressable cameras and networkable surveillance gives security managers the flexibility of monitoring their facilities from virtually anywhere in the world. Time, effort and money are saved by not having to be on site. SECURITY conducted an exclusive conversation with some experts in the remote monitoring field to get a feel of the market.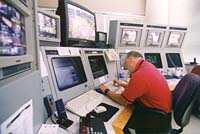 SECURITY: Can you tell us the advantages of remote video monitoring?
JAM PAYDAVOUSI, product line manager, American Dynamics, San Diego: Remote monitoring affords you to be in several places, virtually. The ability to view areas in different geographies on one screen makes professionals more productive, while saving travel time and money. Monitoring stations can validate burglary and fire alarms before dispatching the necessary personnel; this reduces the cost of operation with regard to reacting to false alarms. Once wireless video becomes more popular, fire chiefs and police officers can view the action before arriving at the actual site of a fire or crime. Therefore, they can strategize their approaches.
BRIAN MURREY, sales engineer, North American Video, Brick, N.J.: The primary benefit is that users have the ability to connect to any video site anywhere an Internet or Ethernet (WAN/LAN) connection is available, as opposed to access limitations inherent with fixed monitors. In addition, remote video monitoring is very economical versus the deployment of conventional security measures involving on-site personnel.
FREDRIK NILSSON, director of business development, Axis Communications, Chelmsford, Mass.: It's all about saving time and money by not having to travel to the places being monitored. IP-based video surveillance makes the technology widely available and affordable. With network-camera technology, the installation is quick and the only thing needed on the monitoring side is a standard Web browser.
CHRIS MACKENZIE, vice president, WebEyeAlert, Chelmsford, Mass.: With remote video monitoring, there is no longer a need to lock the security manager in a closet with the equipment. The equipment can do its job and the security manager can be anywhere.
TERRY LOUTHAN, product manager, Honeywell Video Solutions, Morristown, NJ: Manpower, for one. I can view multiple sites simultaneously or have the remote video units call me if an alarm occurs. Instant access to all properties is essential. Live and recorded video is accessible, some with two-way audio. Remote units are used as a management tool.
MIKE ZORICH, director of marketing, Canon USA, Lake Success, N.Y.: The principle advantages are system flexibility and economies of scale. New network video technologies have virtually severed the cable between the monitor and the camera. Therefore, for real-time video monitoring, no longer are facilities managers required to employ a guard sitting in front of the monitors at the physical location of the camera. We're talking about significant labor cost savings as a result of the economies of scale.


SECURITY: What are some of the latest trends and technology we are seeing in remote video monitoring?
PAYDAVOUSI: In order to reduce the requirements for bandwidth, many software integrators are presenting single images as thumbnails on noteworthy events as opposed to showing the entire video, thereby letting the user make a judgment if the entire clip needs to be reviewed. Also, the demand for receiving event notification with single images or video clips of alarm events on PDA-based cell phones (both Palm OS and Windows CE) is increasing.
MURREY: One of the major applications is for large facilities/campuses to utilize the existing Ethernet infrastructure for viewing/monitoring video from building to building. By placing the cameras and digital video recorders on a network, installation costs can be significantly reduced while enhancing the flexibility of the system.
NILSSON: A big factor is remote monitoring via IP networks, using secure virtual private network (VPN) connections. The main factor driving this trend is the fact that twisted pair wiring is available in nearly all facilities, and that most facilities – even homes – are connected to the Internet. In addition, Internet bandwidth in an office facility is normally only used during regular business hours.
In evenings and on weekends – times when remote monitoring is needed most – bandwidth is readily available. This makes the technology very cost efficient. Also, government is looking at remote monitoring technology as a means to cover areas that can be patrolled by police officers. In addition, more departments of transportation are installing remote monitoring systems, giving police and rescue workers access to cameras.
MACKENZIE: Look for Web-based access, multi-site access through a single browser control, PDA and third generation (3G) cell phone access and alarm integration.
LOUTHAN: We will see more intelligent modules within DVRs – object tracking, object counting, facial recognition or directional motion. This type of software can enable someone to make decisions based on items that were overlooked. Also, we will see multi-site capabilities – you can run up to 16 SVGA monitors off one PC if needed. This will offer more screen space for multi-site monitoring. You also will be able to bring up a map of a facility and drop camera and alarm icons on the map. This can give you a real-time display of a site.
ZORICH: The most notable trend in remote monitoring is the transition to the use of standard TCP/IP networks to transmit the video. This represents a cost savings for the facilities owner, since the video surveillance system can transport data over existing Cat5 network cabling without requiring separate coaxial or twisted pair cable runs.
Another emerging trend is the ability to control the new breed of network cameras using PC- or browser-based controllers. It is unlikely that software-based controllers will entirely replace existing joystick controllers. However, they add a remote capability that is both powerful and extensible.
Finally, there is a strong movement toward using 802.11b wireless network infrastructure to both transmit and receive the video stream. On the transmission side, if the network video server device supports standard 802.11b protocols, then the system designer is free to install the device anywhere within the range of the nearest network access point without having to install costly cabling. On the viewing side, new powerful software applications now allow the user to view the camera and secure PTZ camera control from a wireless-enabled handheld pocket PC device.


SECURITY: We've witnessed a lull in Internet monitoring. Is it making its way back as a legitimate security tool?
MURREY: Yes, with the availability of high-speed Internet, many small business owners can easily monitor their establishments very economically. In addition, high-speed Internet connection allows for much higher quality video imaging.
NILSSON: A few years ago some dot-com type companies tried to make their way into the remote monitoring market with inferior, PC-based products – some of which might have given Internet-monitoring technology a bad name. Today, installations are being done with products with hundreds or thousands of products being installed. In addition, the latest firewalls and VPN work with the network camera installations to provide sufficient security for the installation.
MACKENZIE: No lull here. Our architecture is capable of handling massive arrays of cameras – something black box products simply cannot handle. Our product can do virtually anything a local DVR would do, except that it can handle much more data and present it more efficiently onto virtually any computer with a Web browser.
ZORICH: In the past two years we've seen marginal results from several promising attempts at centralized Internet-based alarm monitoring systems. However, we must keep in mind that this represents the professional outsourcing model only, and not all facets of the market. For example, today a small company can install a simple and effective video surveillance system with basic alarm features, and monitor these systems themselves using the Internet. Therefore, while the large-scale outsourced solutions have yet to come into their own, perhaps allowing the small business customer to share in the monitoring of their own facilities represents a legitimate component of our business going forward.
Furthermore, because we are seeing the rapid and continued expansion of broadband circuits for both businesses and individuals, this will certainly help to fuel the resurgence of network-based video and alarm monitoring systems.
SECURITY: What transmission methods do you suggest work best in the remote environment?
PAYDAVOUSI: Any transmission method that provides 128 Kbps or higher is sufficient for most remote video applications. It allows people to use LAN, WAN or VPN using the Internet to view video practically from anywhere.
MURREY: Cable and DSL are preferred means of accessing a network via the Internet. However, with cable, a static IP address must be used in order to remote connect. In areas where high-speed Internet connection is not available, satellite is a viable solution. But the drawbacks include monthly service fees and increased equipment costs. Dial-up networking should be avoided due to painstakingly slow connection speeds.
NILSSON: IP-based networks, which are found in nearly all facilities, are quickly becoming the transmission method of choice.
LOUTHAN: High-speed connections work the best, such as DSL and cable modems. You can have an unlimited number of calls online. With standard POTS lines, you have speed, connection and modem issues. Modem issues consist of failure to connect, dropped calls, noisy lines and compatibility between modems.
ZORICH: The preferred transmission method depends heavily upon the desired quality of output and the type of terrain or environmental conditions. In the field we're seeing a full range of wireless solutions being deployed ranging from very high quality point-to-point line-of-sight video links supporting Gigabit transmission rates to standard 802.11b omni-directional Wi-Fi networks at 1 or 2 Mbps. Of course, the advantage of the TCP/IP protocol, and the systems designed for it, is that it can be tuned to run on any wired or wireless network layer infrastructure that you put in place.
As always, the rubber meets the road when you select your budget for the project. The resulting performance of your video monitoring system is usually an output of that decision.


SECURITY: When purchasing a system, of what should end users be aware?
PAYDAVOUSI: First, protect your investments. Regardless of whether the analog security system has fully depreciated or not, the customer should ask the dealer if the new system or device is interoperable with the legacy devices, such as cameras, matrix switches and multiplexers. The cost of rewiring for new cameras and devices is all labor intensive and can be high. Second, look for ease of use. Third, check out scalability. If more cameras are needed locally or remotely, can new systems be added with as little effort as possible? Fourth, what is the service plan? Manufacturers provide service and maintenance program and some have premier service plans, which provides feature upgrades and enhancements on computer-based video recorders. This allows customers to calculate a fixed budget for annual expenditures on security and safety and remove some potential unplanned expenditure in the following years.
MURREY: The main concern with remote video monitoring is security. It is possible for a would-be hacker to gain access to remote video sites. To reduce the possibility of unauthorized access, user name and password protection is an important feature that must be implemented. An inexpensive firewall should also should be employed to dramatically reduce the chance of unauthorized entry into the system. In addition to increasing security, a stand-alone isolated server should be used in large establishments that have a LAN/WAN network, such as airports, financial institutions, casinos, etc.
NILSSON: Be sure to buy a system that is compatible with standard Internet browsers so that the monitoring can be done from any location. Use products that are based on standard compression formats.
MACKENZIE: Remote video will perform significantly better using a dedicated network connection – DSL, cable, T1 – than with a telephone connection. When using DSL or cable, it is important to realize that the service providers can change IP addresses. Therefore, it is important that the product support dynamic IP addressing rather than static IP addressing. Otherwise, there may be periodic outages and a need to service the equipment more frequently to change the addresses.
LOUTHAN: Will the company be around in a year? What type of connection is available? Some DVRs will handle dial-up, network or both. DSL or cable modems will typically take a static tip address – the end user will pay more for a static address than a dynamic one. Lastly, can the system be upgraded? Avoid a system that has no future path.
ZORICH: The primary hurdle to overcome in the successful deployment of your remote monitoring system is bandwidth, and the impact of the IP-based cameras on your network. Be careful to select a system that can be tuned to meet the needs of your IT department. For example, can the video frame rate, image capture size and/or image quality be adjusted to suite your needs? If not, ask your systems integrator to select a system that can. Also, be sure to consider the power and flexibility of a pan-tilt-zoom camera versus a fixed or manual variable zoom. Once you've had the opportunity to monitor your facilities with a PTZ unit, you will very likely want to add it to your arsenal of video monitoring equipment. Finally, be sure to examine the image quality of the system once it is digitized and converted to packetized video. The video output can vary significantly across the leading manufacturers in the market.