Transporter in Mass Transit, Disaster Response
Not so suddenly, Segways, the odd-looking but practical human transporter, is catching on in mass transit security, disaster response and private security applications.
The Chicago Police Department was looking for a more efficient way for its officers to patrol O'Hare International Airport and provide a secure environment to the 200,000 people who move through the facility each day. O'Hare, the largest hub airport in the United States, covers more than 7,000 acres and includes four separate terminals, several massive parking ramps, 178 departure gates and miles of concourses complete with retail stores, gift shops, restaurants, bars, conference centers and cafés.
The 69 million people who use O'Hare International each year are always on the move, and Commander Michael Acosta wanted his officers to be able to keep pace. They needed to move safely through the multitudes, and to be conspicuous without causing alarm. They must be able to patrol vast distances on a regular basis, and respond quickly to security problems wherever they might develop.
Commander Acosta found what he thinks is the ideal tool for his officers: the Segway Human Transporter. After testing the units for nearly a year, the city of Chicago purchased 28 Segway HTs and put them into full service at O'Hare in February 2004.


Northrop Grumman Receives State Dept. Contract
Northrop Grumman Corp., Mclean, Va., has been awarded a contract to oversee network and systems security for the U.S. Department of State. This information-assurance and security-support contract will help secure the agency's classified and unclassified networks in domestic and foreign locations.
Northrop Grumman's Information Technology (IT) sector will support the Diplomatic Security Bureau by assessing, auditing and reviewing the State Department's network domains for security vulnerabilities. Based on these assessments, the company will provide technical recommendations, support and security training, and implement current technologies and industry best practices to improve system security for the bureau.
Northrop Grumman will also provide information-assurance support to the State Department's Bureau of Consular Affairs. This will include developing security programs and maintaining security policies, practices and operating procedures. In addition, the company will help enhance the bureau's applications security through testing, certification and accreditation of the bureau's systems, as well as monitor system maintenance and alert administrators to security weaknesses.
The one-year, follow-on contract is valued at $22.9 million to Northrop Grumman's IT sector and includes three option years.


Terrorism Expert Questions U.S. Al-Qaeda Strategy
Michael Scheuer, Ph.D., who resigned from his post as head of the CIA's Bin Laden Unit last November, will be sharing his expertise in a series of articles to be printed in U.S. Cavalry On Point, published by U.S. Cavalry Corp., part of the Cavalry Securities Group. In excerpts from his first installment, Scheuer challenges widely held assumptions on the nature of al Qaeda and how it can be fought.
"One assumes that a U.S. military commitment designed to help defeat al-Qaeda is assessed within Washington's overall strategic plan for defeating that organization and its allies," writes Scheuer. "Thus, a decision to commit forces in a new area would be predicated on an assessment that such an action would bring America closer to defeating al-Qaeda, and so would be a strategic gain. Unfortunately, this does not always seem to be the case. The wars now being waged in Iraq and Afghanistan are often discussed by U.S. officials and media commentators as if they are two distinct operations, not as two integral parts of a much larger, multi-part whole. This compartmentalized view comes in large measure from the belief of U.S. leaders that al-Qaeda and its allies are relatively small in number, do not represent the views of a significant number of the world's Muslims, and are most closely akin to criminals who can and must be identified and annihilated everywhere they pop up. This position is not supported by the evidence, but it is the one on which the U.S. government is operating, and one which is yielding a growing list of U.S. anti-al-Qaeda military commitments." Visit www.uscavonpoint.com.


12,000 Zebras in Florida
A Florida city has discovered a myriad of uses for its 20 recently purchased card printers. With nearly 250,000 residents, the City of St. Petersburg offers a wide variety of services to residents and non-residents alike through its 12 recreation centers, three adult centers, two multi-service centers, an athletics office, a teen programs office and the city's headquarters. These services are all accessed with a membership card.
"We wanted to print PVC membership cards that would instantly identify our customers as residents or non-residents of the city, because residents have different fees and privileges versus non-residents," said Fran Allen, a PC/Systems Analyst for City Services. "We currently are using a total of 20 Zebra P310i printers to print the identification cards on demand and on site at our various centers. We project we will be printing around 12,500 cards this year."
The City of St. Petersburg started printing its own cards in July 2004 using Class Software Solutions, which was later purchased by Active Network. Before purchasing the card printers, the city printed paper cards.
Residents pay $5 for a card and non-residents pay $100. The cards have varied designs that visually denote a cardholder's membership status. The card printers have allowed city officials to create personalized and innovative programs to support and encourage the use of its many programs and facilities.
The printers were recently used to personalize the back of about 2,000 gift cards that will be used at the city's golf courses. A monetary value is assigned to the cards using the card printing software. That number is printed onto the card, which is read at the cash register by a scanner. The gift cards can be used in pro shops, at concessions and in starter buildings where customers can purchase buckets of balls to practice their swing.
The city is also currently developing membership cards for unique city resources, such as the botanical gardens. These cards will have a distinctive design and will likely include a barcode encoded with information about the cardholder.
"The printers have been easy to learn and simple to use," said Allen. "Any problems we've encountered have been simple. Most of our staff knows how to operate the printers."


Viscount to be Covered in H.S. Sector Report
Investrend Research Syndicate announced that it will initiate coverage on Viscount Systems, Burnaby, British Columbia. The company will receive special Spotlight Analytics coverage in the upcoming Homeland Security Sector Report and quarterly updates being produced by Investrend Research in partnership with Cronus Capital Markets and under the auspices of the Homeland Security Industry Association.
"MESH. is being specified and quoted at increasing numbers of Homeland Security related sites," said Stephen Pineau, President and CEO of Viscount. "Our MESH. Redundancy Servers are the first industry solution for preventing system service downtime that compromises security in these facilities. It is important that as we continue to generate interest and create success we share this with other end-users and generate value for our investors."
The Homeland Security sector coverage is being administered by Investrend Research analyst Ryan Fuhrmann, CFA. Spotlight coverage of Viscount Systems will be provided by Investrend Research analyst Michael Anderegg, CFA. The analysts' credentials can be viewed at www.Investrend.com.
The Homeland Security Industries Association, with 400 members, has endorsed what it considers to be an important upcoming homeland security sector report and analytics coverage. It is offering a special membership to companies that enroll for the coverage.



Rainbow at Circle K
Vari-focal dome cameras from Rainbow CCTV have been installed at 280 Circle K stores in mid-western states including Missouri, Illinois, Ohio and Michigan. The cameras have been installed by Electronic Video Systems of Springfield, Mo.
Located in strategic parts of the stores and linked by coaxial cabling, the cameras are being used as part of a system for general monitoring. Presently, recording is predominantly to VHS tape but migration to a digital solution is taking place. Certain stores are using Rainbow's quad processors, which connect up to four cameras and one VCR, offering quad and switching video output.
Circle K is one of North America's largest chains of company-operated convenience stores, with approximately 2,000 stores in 18 states and an additional 4,000 international locations.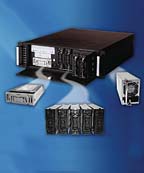 Game On for DVRs
The Colorado Gaming Commission has approved American Video Electronics Inc's DVR line for use in the Colorado Gambling Casinos. This comes after months of working with a large Black Hawk, Colorado casino, where the testing agent found the performance and recording capability more then acceptable. The agent also found the removable storage and system drives, and power supplies to provide a significant reduction in possible downtime and servicing, allowing filed replacement in minutes of these three critical components. Visit www.aveitech.com.

Senators Call for Increased Mass Transit Security Funding
Leaders of the Senate Homeland Security and Governmental Affairs Committee are calling for increased funding for mass transit security. During negotiations over the Homeland Security Appropriations bill, Senators Susan Collins (R-Maine) and Joseph Lieberman (D-Conn.) are pressing the leaders of the Senate Homeland Security Appropriations Subcommittee to meet House recommendations for transportation security programs.
"The recent attacks in London again demonstrate that transit systems are attractive targets, and it is crucial that steps be taken to mitigate the potential of another terrorist attack from occurring in the United States," said the Senators in a joint letter to Senators Judd Gregg (R-N.H.) and Robert Byrd (D-W.Va.). "Fourteen million people rely on mass transit systems in our country every day. We must provide assistance to system owners and operators to continue rapid deployment of security enhancements."
The House included $150 million in its Fiscal Year 2006 Homeland Security Appropriations bill for intercity passenger rail and transit security grants. The Senate version of the bill provided $100 million. Senators Collins and Lieberman urged appropriators to direct at least $150 million toward mass transit security grants. Congress allocated $150 million for this purpose last year.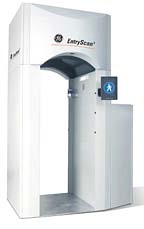 Airport Adds Walkthrough Explosives Detectors
GE's Security business announced that TSA has installed and put into service two GE EntryScan3 walk-through explosives detectors for passenger screening at the just-opened International Terminal D of Dallas/Fort Worth (DFW) International Airport.
The detector, which is popularly known as the "Puffer Machine," has already been deployed to dozens of high-risk facilities worldwide to help detect explosives, according to GE.