No one wants to think that disaster could strike. However, living in denial and not taking the proper precautionary measures to mitigate risk, prepare a disaster program, respond to the plan and follow through to recover post crisis is simply not an acceptable option.
It's the duty of every security executive to establish comprehensive crisis management plans that effectively incorporate phases of the crisis planning cycle.
In the wake of recent global life-altering events, have you thought about how your enterprise would react during a crisis situation? What would you do if disaster struck? Do you have a crisis management plan in place? If yes, who is in charge of maintaining it? Is it in hard copy, electronic form or both? Who has access to it? Where is it stored? Do you know who your first responders are and do they have access to this information? How often do you test the plan under a variety of scenarios?



The template
Crisis planning templates are available and provide a framework to help guide you through the planning phase, as each entity will have its specific requirements and components.
There are some simple steps. Keep in mind that just the simple, yet important act of knowing where electric and gas utility units are located and being able to quickly locate and shut them off may well stop a fire from igniting. Though this sounds like an obvious point, it can be easily missed without up-to-date and accurate information depicting locations and shut-off instructions at all facilities.



Empowering the protectors
Maintaining hard copies of information such as emergency contacts and exit strategies, clear and concise step-by-step crisis management instructions, utility location including shut-off instructions and still photographs providing extensive visibility is beneficial. But hard copies are vulnerable to water and fire as well as being subject to human error, such as being misplaced or forgotten during site evacuation. No one wants to lose valuable time searching for these documents; and even if located, few people would jump at the prospect of sifting through masses of information, desperately hoping to find the exact materials needed to understand their surroundings and effectively manage the situation.
The answer is to implement a collaborative emergency-preparedness solution that provides site administrators, plant managers and security personnel the ability to electronically store and update vital information within an off-site, centralized data repository. The stored information should be accessible online via the Internet or offline via a universal serial bus (USB) key, the latter being relevant should Internet access fail.



A second advantage with USB key hosting both the solution and data is that when the key is connected to any USB-ready device, the information stored can be navigated as if the user were accessing an online version. Enabling the key to automatically sync to a centralized database ensures the information is always up-to-date. Anytime/anywhere access to emergency contact information, facility plans, utility shut-off locations, localized facility photographs and aerial images is vital to any emergency team's ability to quickly synchronize their coordination efforts.
Ensure that this information is always current and accessible to authorized personnel. What good is having safety measures in place if all security personnel trying to serve and protect do not have 24/7/365 access to essential site information when situations requiring urgent attention arise?


COLLABORATIVE SCENARIO – FIRE
— Fire outbreak threatens facility
— Facility site immediately alerts 911 requesting assistance
— 911 contacts fire, police and emergency medical personnel
First responders use the collaborative emergency-preparedness solution to:
— Review site aerial photograph depicting surrounding buildings, fire hydrants, off-site gathering areas and entrance/egress points
— View the facility layout locating access points, utilities, hazardous materials, on-site gathering areas and special instructions
— View list of facility personnel with contact information and safety plans
— Rules of engagement ready before arriving to the scene


COLLABORATIVE SCENARIO – VIOLENCE
— Individual threatening personal harm
— Facility site alerts 911 requesting urgent assistance
— 911 contacts police and emergency medical personnel
First responders use the collaborative emergency-preparedness solution to:
— Review site aerial photograph displaying entrance/egress points
— Survey the facility layout locating access points, utilities, hazardous materials, on-site gathering areas and special instructions
— Drill-down to view the actual room where the aggressor is located
— Response scenario can be determined before arriving to the scene
— Aggressor and possible victims can be observed and recorded via live camera feed until conclusion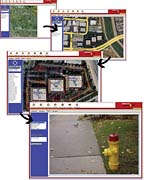 First responders unprepared
Corporate security collaboration with first responders is important but will continue to be challenging, based on a recent national study.
About four years after terrorist attacks on the United States, about 46 percent of 200 emergency response leaders, representing a cross-section of the United States, say their organizations have made little or no improvement in emergency preparedness, according to that nationwide survey covering municipalities, airports and seaports, as well as state homeland security departments.
Airport emergency response leaders were most likely to see major improvements in emergency preparedness, while municipal response leaders were least likely. The survey, "CODE Red: The State of Emergency Preparedness," was conducted via telephone in June and July 2005 with a wide range of public organizations, including municipalities representing 51 of the top 100 metropolitan areas - among them San Antonio, Boston, San Francisco, Dallas, and Washington, D.C.
Four times as many emergency response leaders (48 percent) said they were more worried about a natural disaster like a tornado or hurricane than about a terrorist attack (12 percent), or more than twice as many than a major catastrophic accident, such as a chemical spill (19 percent).
The CODE Red Survey, sponsored by engineering and technology design firm Ross & Baruzzini of St. Louis, Mo., found that "bureaucracy" was by far the most important barrier to securing federal funds to improve preparedness, with twice as many respondents (48 percent) listing it as compared to the "lack of expertise in applying for these grants" (23 percent), which was the second most common barrier.
On the other hand, power generation facilities (41 percent), water supplies (38 percent), and communications systems (36 percent) were considered most vulnerable to a natural emergency such as severe storms or earthquakes.


Public buildings and parks were considered the most vulnerable to man-made emergencies, including terrorist attacks and chemical spills, according to 38 percent of the respondents, followed by chemical plants (35 percent), water supplies (33 percent), power generation facilities (33 percent), airports (33 percent), office towers (30 percent), ground transportation (29 percent), hospitals (27 percent), communications systems (26 percent), coastal and inland ports (25 percent), and colleges and universities (17 percent).
Of the "man-made emergencies," more than one-fourth (27 percent) of all emergency response leaders worried most about an explosive device, followed by an electronic attack on computer systems (18 percent) and chemical attacks affecting air or water supplies (18 percent). Worry about explosive devices was highest in airports (54 percent) and seaports (55 percent).
"The survey indicates that progress has been made in making our country safer, but we've got to increase these efforts on a number of fronts," said Michael Shea, principal at Ross & Baruzzini, which has designed security and emergency systems for more than 200 public and private facilities over the past 20 years.



Sidebar: Domestic Violence: Employers Pay, More Are Acting
In addition to the physical and emotional costs suffered by the victims, domestic violence impacts employers by causing lost work time, lowered productivity and increased health care costs.
The National Violence Against Women Survey (U.S. Department of Justice) found that victims lose a total of 8 million days of paid work, which equals more than 32,000 full-time jobs as a result of the violence. Ten workdays were lost every time an intimate partner stalked a woman and 7.2 workdays were lost, on average, by victims of physical assault. Estimated total value of days lost from employment and household chores is a staggering $858.6 million a year.
A report by Employers Against Domestic Violence revealed how batterers affect the workplace, and found many areas of workplace abuses and lost productivity. Batterers, on average, missed approximately seven business days for court activities related to their perpetration of violence. In addition, batterers spend significant work time and resources to monitor their victims. Work telephones, e-mail systems and even co-workers are employed by batterers to "check-up" on their victims.
Another significant cost of domestic violence is healthcare. The mean medical care cost per incident is $2,665, approximately half of which is paid by insurance plans. In fact, total estimated healthcare costs related to domestic violence, including medical and mental services, is $4.1 billion.


Sidebar: Steps to Consider
— Create a comprehensive crisis management plan.
— Test and refine the plan.
— Provide authorized personnel anytime-anywhere plan access.
— Schedule and execute regular plan and site updates.
— Schedule and execute regular testing scenarios.
Sidebar: EMERGENCY COMMUNICATIONS: Guard Booths and Guard Tour Systems
Security officers at their post and on patrol are essential players in crisis planning. Pre-manufactured booths and enclosures from such sources as Par-Kut International of Harrison Township, Mich., and B.I.G. Enterprises of South El Monte, Calif., have units that can be fitted with wired and wireless communications and computer equipment so that the officers inside have layouts and pictures of the facility and its utilities and sensitive security areas. Guard tour systems also can help in emergency communications. Typically gear from sources such as Detex of New Braunfels, Texas, can be pre-programmed to provide security officers with scripts related to locations and incidents.