GE Expands Copperline Series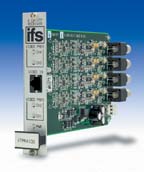 GE Infrastructure, Phoenix, Ariz., announced the introduction of the VTPR4100 Series of four-channel video receivers. Part of a new line of transmission products, this time not over fiber, but over Cat 5 or UTP Cable, the IFS Copperline Series are the first environmentally hardened UTP video transmission products that offer a performance level never offered by any manufacturer. The VTPR4100 detects four independent UTP video signals in one module on four independent CAT5 twisted pair cables.


I want to hear from you. Tell me how we can improve.