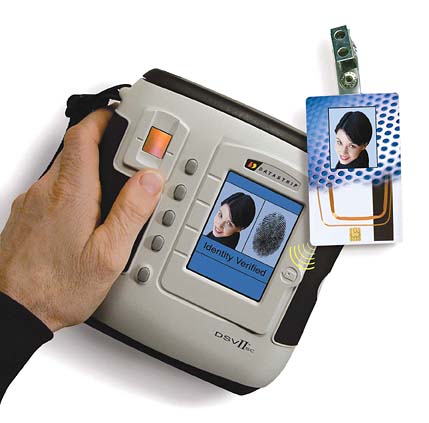 Radio frequency identification (RFID)-enabled plastic cards, along with advanced card printing and manufacturing techniques, offer operations additional levels of security to shore-up facilities and further safeguard against theft.
Key cards, identification badges and keypunch locks have been the traditional answers but they are often not enough in today's world. Facilities with multiple sites, high-security facilities with multiple levels of clearance, or that rely on temporary and short-term contract staff, need smarter access systems without creating a hassle for employees. A complete RFID-based access control and ID badge system is designed to work in conjunction with existing systems, and consists of a plastic card, tag, reader and system software.
The information stored and updated on a 13.56 MHz RFID card may consist of an employee's name, department, clearance, access authorization and employment status, more information than a standard barcode or magnetic stripe can retain. When a card is activated at an entrance, for example, this information is recorded with a time, date and location of the reader, and saved in the central security database or in the security office. The employee doesn't have to swipe, scan or sign anything. This automatic and online audit trail of who has entered the building or security zone within the building, when and how long they stayed would be priceless if a security breach were to occur.


Combining Production, Safeguards
Weaving advanced printing techniques together when creating ID cards or badges is a prudent additional security measure to RFID-based systems. Advanced printing techniques work together like pieces of a puzzle; some are integrated with existing artwork, with others added to the overall card design. A highly complex, multiple color design such as Guilloche print can be integrated with existing artwork to create a completely unique background design. As the unique patterns are generated mathematically, they are impossible to reproduce without the original plates. Printers can also add hidden patterns and information printed on the surface of a card for another level of security to assess authentication. Very fine printing, often referred to as microprint, can't be rendered on commonly available digital printers. The technique weaves buried graphics only visible with a high-intensity light inside the lamination layers, called hidden print.
Imaging is the second most effective, and often most overlooked, set of printing techniques for ID cards and badges. A well-proven technique, the use of holograms, is virtually impossible for scanners to duplicate or printers to replicate. Holograms come in two varieties: surface and imbedded. The first set of holograms is reflective patterns or images hot-stamped right on the surface of the card that shift as the card is moved back and forth. Imbedded holograms, or security overlays as they're sometimes referred to, are reflective background patterns imbedded under the laminate on top of the printed card that is impervious to general wear and tear. Often used in conjunction with holograms is ghost imaging. This printing technique adds a duplicate image, printed in a diffused manner and slightly offset from the original image, and is a great printing technique to tighten security.