The Aon Building in downtown Chicago has anti-intrusion rising barriers with concrete anchored steel cable to prevent unauthorized vehicle penetration. The New Jersey facility for Schering Plough uses rapid gate operators to handle a lot of traffic and harsh weather. In Quebec, Canada, Smurfit-Stone Container Corp. has a rising barrier with rigid skirt for its single lane access and foot traffic.
There is a diversity of gates for applications ranging from industrial sites and corporate parking entrances to correctional facilities and gate-guarded communities. It's the gate operator, however, that provides the muscle, brains and connections to make the gates open and close properly.
How do automatic gates work?
All motorized gates use a powerful electro-mechanical means to open and close. To initiate an open cycle, typically a remote control, magnetic card, keypad, optical scanner, or other type device signals the gate controller. To close the gate, a timer and/or series of in-ground "loops" signal the gate after a vehicle passes through. The "loops" are essentially coils of wire buried in the ground and connected to electronic detectors that sense the presence of metal and notify the gate controller of the vehicle movement.
Among common features of many gate operators:
Alarming – If the gate hits a vehicle while closing it re-opens. If it hits a vehicle while opening it stops, reverses a set number of inches and stops again.
Gate Traveling Time – Adjustable often by a mechanical device and electrical limit switch system.
Integrated Loop Detectors – Plug in loop detector inputs for exit loop, center loop, and safety loop.
Soft Stop – The gate travels through the cycle at normal speed and comes to a stop slowly for more accurate gate cycle.
There also is a diversity of elements, beyond good equipment and proper installation, that makes movable gates operate safety. For example, Underwriters Laboratories UL 325 Fourth Edition makes explicit consideration for the entrapment of people in automatic gate systems. In some cases, additional testing for performance certification will be required under standard UL 991, which is cross-referenced in UL 325. Under UL 991, the controls will be separately evaluated for their applicable use.
What follows is an editor's market view:
Automatic Control Systems (ACS) of Port Washington, N.Y. has systems with gate arms that can span openings of up to 30 feet. Numerous security and safety features include durable crank and shaft operating mechanism; security locking in upper and lower positions; safety clutch; and electronic controllers.
Among ACS products is the BL21, typically used for very high traffic volumes, say more than 3,000 vehicles per day. It is designed to stand up to harshest weather environments and operating conditions.
The firm also boasts specialty gates for such situations as when a gate needs to open in half a second or span a road 45 feet wide. Variable speed controllers, snap-out gate arm and automatic opening on power failure are just a sample of available features. Wide access points requiring access or security barriers can be controlled with gate operators with very long arms. These can be activated by any access system, and provide much quicker operation that slide or swing gates.
Chamberlain Professional Products of Elmhurst, Ill., through its Elite Access Systems operation, has a line of automatic gate and access control systems. Its commercial swing gate operator, CSW-2000-UL, is for high traffic applications such as heavily accessed gated communities and commercial buildings. Capable of handling gates up to 600 lbs. and 18 feet at 75 cycles per hour with normal ambient temperatures, it has "non-scissors action" arms to reduce the risk of injury, according to the manufacturer.
For parking garages, Chamberlain Elite's Hercules is equipped with a 40 to 1 gear reducer/box that is lubricated by an oil bath to provide smooth and quiet operation. There are four heavy-duty noise isolators. The instant reversing parking gate motor is capable of continuous operational cycles per day and has digital overload motor protection. Hercules is 8 inches thick for low clearance parking lots.
DKS DoorKing of Inglewood, Calif., has a line of gate operators aimed at a variety of applications.
One, Model 6400, installs underground to allow the original gate design to standout. The motor/drive mechanism is constructed in die-cast aluminum with a special corrosion-proof treatment. The underground self-supporting foundation box is built from corrosion-proof steel and has a galvanized steel cover. A lockable manual release lever is designed so that it can be operated from inside or outside the gate. Maximum gate width is 10 feet and maximum gate weight is 750 pounds.
Among products from GTO/Pro Professional Access Systems of Tallahassee, Fla., is the GTO/PRO 4000, which will handle swing gates weighing up to 1,000 pounds and up to 20 feet in length. It's designed to be a slave to and has the same features as the PRO-4000 for dual gate applications.
At Hy-Security Gate Operators of Seattle, Wash., among its line of gate operators is the 222CX aimed at correctional facilities. Additional features for correctional facilities added to the firm's basic 222 operator include heavy gauge lockable cover, extra relay to read gate position, delay timer to allow external locks to disengage, long run interface and external interlock connection terminals. The equipment is generally used in medium or maximum correctional facilities when the operator is not under direct visual control and when the gate operators are inside the facility and mounted on the ground.
At Magnetic Autocontrol of Rockledge, Fla., a car park barrier has operating times from 1.4 to 4 seconds. These special barriers often are used for multi-tier car parking garages, campsites, custom points and tollgates.
With economy in mind, Ecoline barriers from Magnetic Autocontrol are for simple applications without high requirements to speed, vehicle frequency and functionality such as private entries, small parking areas or facilities operated by a security officer.
SmartGate from Invisa of Sarasota, Fla., is designed to meet non-contact safety sensing requirements. SmartGate has no narrowly focused light beams to keep aligned, no output lenses or sending units to keep clean, no bulbs or emitters to burn out and no expensive in-the-ground installation. Its invisible field puts safety sensing moving with and preceding the closing gate arm. The system produces an invisible field that senses conductive objects such as people and vehicles. Installed into any existing or new gate, when alarmed, SmartGate signals the gate operator to stop and reverse the motion of the closing gate arm. The larger the conductive object, the further away SmartGate will sense it. When the object is no longer in the operating path of the arm, the gate can close normally.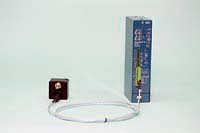 Senses a hand
According to the manufacturer, a properly adjusted SmartGate will create a stop and reverse point of approximately eight to 12 inches from a mass as small as a hand and two to three from a large object such as a car.
SmartGate is compatible with gates having input contacts and logic for a "safety reverse" or "rebound" function. There are wiring recommendations for those controllers having only "vend" or "open" inputs. The controller should also have a "time-out-to-close" feature to allow proper closing of the gate after an alarm. An optional "time-out-to-close" module is available for gates without this function.
To quickly let first responders through an automated gate, Click2Enter of Sonoma, Calif., has technology that uses the responder's radio transceiver.
Click2Enter was developed to provide public safety personnel immediate access to gated residences, corporate parking facilities or any security control mechanism. Other authorized users can even use the Click2Enter, as long as they are programmed into its frequency bank and have a radio transceiver.