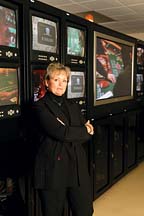 Big" is one word to describe new enterprise-wide security technology at Wynn Las Vegas. It's probably the biggest fully digital video installation ever.
"First" is another descriptor. It's the first 100 percent all-digital recording application approved by the tough-as-nails Las Vegas Gaming Control Board.
But "seamless, scalable integration" is the phrase that pays for Patricia Fischer, executive director of surveillance at the casino. Her installation has the advantages of digital security video, cash register integration, an open architecture platform approach, 2,000+ cameras, 4,000+ security/alarm points, RFID in casino chips and easy forward-growth to include one-day assimilation with electronic games such as slot machines.


From the beginning
During design phases with general contractor Marnell Corrao Associates and M. Malia & Associates, Wynn's security staff set a high bar for system performance and integration including "the advantage of digital recording, with flexibility to upgrade as new technology becomes available," said Fischer.
In addition, the team wanted to integrate access and life safety systems into the video system for centralized monitoring of these vital operations. "We also wanted…to integrate cash registers – point-of-sale (POS) systems – with the video system to easily monitor, match and track transactions in the retail, and food and beverage areas, along with the ability to integrate electronic gaming devices such as slot machines at a future date," she added. "These capabilities required digital recording technologies on a higher level than previously deployed in Las Vegas."
Upon design approval, the clock started ticking for North American Video. The security phase started in January 2004 with fall installation and scheduled completion in late April.



"There was no doubt from the onset that project management would be as critical as the technologies planned for the facility," said Cynthia Freschi, president of North American Video. "Not only would the construction timetable impact our ability to access the property to install the security system, we were looking at integration capabilities that had previously not been attained in a working environment."
"Our biggest challenge during the security project was construction," said Fischer. "Most of the equipment had to be installed after walls and ceilings were in place. A detailed plan had video surveillance and security equipment on site and ready to go when needed during various stages of construction." And Freschi, along with John Phillips, the integrator's technical director of western operations and gaming industry veteran, personally directed the project team.
Not uncommon in casinos, video's two systems – one dedicated to surveillance to keep an eye on gaming and cash areas, the other for the art gallery, hotel, parking areas and surrounding amenities. Aiming at having specific sections of the security system ready when various construction "windows" opened, the integrator "preassembled" the entire video surveillance and security system in its Las Vegas facility prior to deployment.


Freschi said they literally built, tested and programmed almost the entire security system off-site. Project management consisted of a foreman assigned to each of four areas representing different phases.
Offsite programming for the system was completed over a period of three weeks, during which time every camera was connected to the matrix system and tested. According to Freschi, The digital recording system was tested in modules consisting of 32 cameras each…during the process, every camera was numbered based on its intended location and back focused. The integrator also configured and tested the complex digital recording system at its facility where programming was customized and tested for integration with the casino's alarm, life safety and POS systems.
"As construction progressed, we were to stay a few steps ahead so that we could quickly gain access to specific areas within the facility while walls and ceilings were still accessible," said Freschi. "And when our installer, Fisk Technologies, was given access to a specific area, we knew we had to get in and out as quickly as possible as not to delay construction schedules. The timing and coordination on this project was incredible."
A main concern was gaining access to the technology center within the facility since this is the where the heart of the security system resides. "Once the construction team gave us the word, we moved in and started assembling the control and recording components that we had previously configured, tested and prepared for transport to the Wynn location."



Technology deployed
When planning possible system configurations, the company looked at equipment solutions from several leading manufacturers and decided collectively with Wynn's security team that Honeywell Video Systems best suited their specific needs. With over 2,000 cameras located throughout the facility and surrounding property, plus the integration of various related systems including the future monitoring of Wynn Macau, the company worked closely with Honeywell to develop a customized solution based on VideoBloX Full Crosspoint Matrix Switch/Control System hardware controlled via the MAX1000 Video Management System CPU and software further integrated to the enterprise recording system.
There are two separate control centers in the Wynn's Technology Center programmed and controlled using Honeywell's Ultra-Key, also providing an expansion path from matrix switchers to powerful video management systems as the casino's camera capacity and control needs grow. The ability to customize the system to meet the facility's integration requirements, along with the ability to reprogram operations and reassign cameras to accommodate future renovations, provided the right combination of assets."
All cameras installed in the casino record digitally at varying frame rates depending on their coverage assignments, using Honeywell's enterprise recording system. The system provides simultaneous record, playback and viewing of live or recorded material, internal/external redundancy and backup and advanced networking.
"The integrated security system is believed to be the largest fully digital video surveillance and security system ever implemented and the first 100 percent digitally recorded system approved by the Las Vegas Gaming Control Board," contended Freschi.


On a new level
"It was decided early (that the system should integrate) with POS applications for retail, and food and beverage outlets, with plans to add areas such as Race & Sports Book and Slots in the future," said Fischer. "North American Video's enterprise solution allows us to immediately search our POS system based on virtually any parameter and to call up the video, or find an incident on video, and call up the graphics that meet the requested parameters."
All POS transactions are network routed to an integrated data management (IDM) server from Honeywell that mines the POS data input and mates it with specific cameras. "This allows us to program alarm activities based on certain parameters and to instantly monitor and recall transactions," said Freschi. "We've dubbed this custom POS integration capability the CYA (Cover Your Assets) program. This server-based solution also allowed us to integrate over 4,000 security and alarm points throughout the facility."
Work continues to integrate the casino's slot systems into the IDM system. Based on a casino gaming system called IGT Advantage from International Gaming Technologies, preprogrammed parameters would automatically signal an alarm state and activate specific camera and recording sequences to monitor activity at the affected machine. "This level of integration will set a new plateau in technology for the gaming industry," Freschi predicted.
Lenel OnGuard Total Security Knowledge Management Solution using open architecture design standards also is part of the seamless integration. The sophisticated system was networked throughout the facility and fully integrated with video and alarm systems to provide access control, alarm monitoring, digital video, intrusion detection, asset tracking, information security integration, credential production and employee and visitor management functionality.
In addition, the casino will embed radio frequency transmitters in its casino chips to deter cheats by easily identifying counterfeit chips, and to keep track of markers and rate players for complementary services.


Go to Security Magazine's Web at www.securitymagazine.com for additional information on casino security, security systems integration, digital security video and radio frequency identification. Use the LINX search service, powered by Google.
Sidebar: 'Wynning' Wiring
There's one security system unchangeable, even for a state-of-art mega-facility like Wynn Las Vegas. It's that things will change.
All cameras were networked with specially designed, multi-camera power supplies.
Copper cabling from field devices were run to terminate at wall-mounted swing racks, custom prefabricated to include the system's multi-camera power supplies, universal twisted pair devices, data distribution and alarm panels. From these telecommunications rooms, hundreds of pairs of CAT 5 was then run back to the monstrous tech center on the mezzanine level, where the cabling was then punched down and connected to the matrix switcher and other control devices.
With this solution, North American Video had the ability to move cameras without the need to move conduit.


Sidebar: NAV's Freschi Honored by SDM Magazine
Ever since she became involved in the security industry working for a distributor in the northeastern United States, Cynthia Freschi kept her eye on the prize of the gaming industry.
"I was watching the volume of business coming from the gaming industry and had visions of being able to supply the full gamut of services from design through installation – the complete integration package," reveals the president of North American Video Inc. (NAV), Brick, N.J. Now she's at the top of the game as SDM Magazine's second annual Systems Integrator of the Year.
"I had my eye on Wynn (Las Vegas) from the second I knew it was even a possibility," sighs Freschi. "I had always wanted to do work with Wynn casino," she admits.


Sidebar: Game Board with Integration
Milwaukee-based Johnson Controls just earned the H. Bruce Russell Global Innovator's Award for its Solutions Navigator facility assessment and planning tool. The 8th Annual CoreNet Global Innovators Awards recognize the industry's most innovative practices in corporate real estate. Johnson Controls won the award in the "innovations by service providers" category.
Solutions Navigator is a specially designed "game-board" assessment tool that provides a structured, interactive process for facility owners, real estate managers, security executives and other key stakeholders to quickly assess and prioritize common facility related needs and practices. The navigation sessions, which are facilitated by certified Johnson Controls consultants, help organizations address a wide range of challenges, from the design of new facilities, to the improvement of existing infrastructure. Over the past two years, more than 1,000 people representing hundreds of organizations around the world have used the tool.