School, Police Get Networked
When the high school in Tewksbury, Mass., decided it was going to take a proactive stance on security, they installed one of the most sophisticated integrated security systems.
The idea was precipitated by Police Chief John Mackey in terms of his concern for the welfare and well being of the children.
In conjunction with the Tewksbury Police Department and the Tewksbury Memorial High School(TMHS), Vanguard Managed Solutions, Mansfield, Mass., formerly Motorola Multiservice Networks Division, issued its SafeWatch security approach to alleviate security concerns at the high school. Motorola is helping the local law enforcement respond to emergencies by providing real-time or archived access to information in potentially dangerous situations.
Anthony Romano, principal of TMHS said that Chief Mackey drafted a proposal and met with school officials and Dr. Christine McGrath, Superintendent of Schools, to discuss it. The proposal was to add a security system at TMHS and expand that eventually to other public schools in the town.
"The cameras are not installed to monitor activities of everyone on a daily basis, but only if there is a threat to the well-being of students or personnel," Romano says. "It is a tool that's in place to enhance our ability for communications should an incident occur."
SafeWatch is a complete real-time video monitoring system, allowing public safety officials, in the event of an emergency, to remotely activate cameras located in the public areas of a school. The images can be viewed and the cameras can be controlled from a public safety facility or vehicle. This provides public safety officials with a real-time view of the affected area and allows them to make informed decisions on how to address an emergency situation. In the event of an emergency, SafeWatch immediately notifies the police for instant viewing. The school, however, monitors activity on a continuous basis.
"During emergency situations, tactical visibility can be very low. The current communications systems can be disabled pretty quickly. Because the schools are older, their capabilities are limited. What we try to do is go in and use the existing network in place and extend those communications capabilities," says Ray Patalano, public safety offering manager at Vanguard.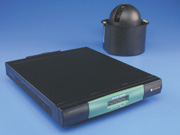 A Safer Watch
The system was designed so that the cameras remain dormant at the high school until activated by the police. If an emergency happens, the phones are networked under the 911 system and will automatically connect to the police station. At this point, the police can use the video to assess the situation. In addition, the video link can extend through a wireless link to a computer in a police vehicle. The system operates over computer networks currently in schools, which eliminates the investment in new wiring.
SafeWatch is the first integrated package that allows users to securely access, monitor and control digital video-whether in real-time or archived, onsite or remote, from single or multiple locations-using the Internet Explorer Web browser. By combining the RemoteVU Guardian IP Video Transmitter, VOIP capabilities, telephones and wireless networking hardware over a managed IP network, SafeWatch will help security professionals enhance the service they provide their clients and communities.
"Because we have a long history of networking expertise, we can integrate the pieces in a managed package that is unlike anything else available today," says Patalano.
It's effectiveness is measured based on the concentration on the main areas; the hallways, the gymnasium, the library, the cafeteria, large areas where you'll see a lot of students and teachers congregating.
"The networking approach includes digital video, voice over IP and wireless technology. The synergies between Eastern Video security, Billerica, Mass., and Vanguard networking are a perfect fit. SafeWatch can be customized to include any other technologies whether it is access control or alarms," says Patalano.


The Package
The components of the SafeWatch system are: RemoteView Guardian-an IP digital transmitter that takes all the analog cameras and puts them over a network and it digitizes them and stores them. It brings them back to the police station.
o Vanguard IP voice gateway: allows for a back-up phone system in the schools. If the phone lines are taken down, you still have verbal contact that runs down the network directly back to the police station. Secondly, it allows us to connect to the intercom system. Back at the 911 control center, they can actually connect to the intercom system as if they were standing right next to it or standing in the principal's office. The value of that is for the police to give instructions back and forth; if they need a kid to go out a certain door, if they need to go and talk to somebody via the intercom system.
o Wireless transmitter and receiver: put inside the school to send video wirelessly to a police cruiser. The police will be able to drive into the parking lot and in strategic locations. These strategic locations will be able to actually connect inside the school and see a real-time view of what is happening.
"By October, that system will be a mobile command center instead of a cruiser. If anything should happen, the mobile command center would respond from the police station. It has everything it possibly could need to be able to take command of the situation from the school. We are in the process of making the command center. Within our department we will be able to respond and when we get to the school we will be able to monitor it from outside the building as well as from the station." says Mackey.


Spreading the Word
Police Chief John Mackey is also highly visible and vocal in his approach to part of a consortium called NEMLEC (North Eastern Massachusetts Law Enforcement Council) which is made up of 35 - 40 communities in the area. Dealing with Rick Stanley, North Andover Police Chief and NEMLEC, they thought that it might be a good idea to eventually move in a direction where they could put this in all the schools in the NEMLEC region, which would be substantial. "Again, the sole reason being is to help us make a good, logical decision as to how to move and how to move quickly at a school location under the worst possible scenario that you can imagine," says Mackey.
"Schools are safe, but we all have come to understand the fact that tragedies do occur in schools. Based upon some of the ones that have occurred, such as Columbine, it puts police in a position of looking at how they would respond to those kind of catastrophic situations," says Mackey. "I look at it like an insurance policy. It is something that you hope you actually never have to put into use, but it is good to know that it is there if you do."


SIDEBAR: The components of SafeWatch
Component RemoteVU Guardian
Crisp, clear, real-time
video as data
Remote access capabilities
Multiple camera control selection
Vanguard IP Voice Gateway
Instantaneous connectivity between school and police station
Virtually eliminates long distance telephone charges
Streamlines operations
Integrates voice, data and video over one network
Networked Telephones/Intercom
Designated phone lines networked directly to 911 and the police station
Wireless Connectivity
Wireless broadband connections to mobile vehicles
Bundled Services
Site survey to assess needs
Chain wide installation and maintenance
Network monitoring & management
Network security
Grant writing


I want to hear from you. Tell me how we can improve.