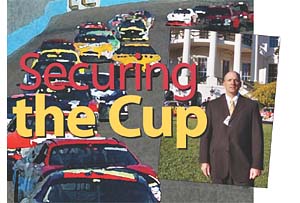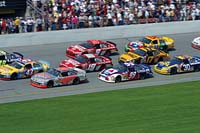 The Super Bowl, the World Series, the Daytona 500 – all are headline sporting events at major indoor/outdoor venues that attract thousands of spectators. As some of the most popular sports in America, it doesn't take a security expert to realize that these venues are prime targets for a terrorist attack. Venue and event security directors nationwide continuously prepare for the worst to ensure that fans are secure.
One the hottest and fastest growing spectator sports today is NASCAR. NASCAR Nextel Cup races average over 100,000 attendees per event. The Daytona 500 and the Brickyard 400 at Indianapolis Motor Speedway are NASCAR's biggest events, averaging more than 400,000 spectators. The sport has amassed a following of 75 million fans worldwide and currently ranks second in television viewership of all major sports behind the NFL, according to NASCAR insiders. With NASCAR's popularity on the rise, the level of security must increase. One of NASCAR's elder statesman, Dale Jarrett, was quoted as saying after September 11, 2001, "I'm not sure how much terrorists know about racing, but they obviously would know that everywhere we go there are over 100,000 people there and it would certainly be a target. Changes have to be made."
And change it has.
"NASCAR is committed to providing our fans with the safest and most secure facilities in the industry. All venue security managers enact an overall security plan in consultation with all public safety agencies with jurisdictional oversight. There is no doubt fans should feel safe when attending any event. My greatest concerns are to ensure the safety of all fans and the safety of our competitors. At any location where there are over 100,000 plus attendees, we must prepare for all eventualities," says Tim Christine, director of security for NASCAR.
Christine joined NASCAR in May 2003, after serving 20 years with the U.S. Secret Service. Christine's job encompasses corporate security matters that affect business operations at all NASCAR facilities including the headquarters facility in Daytona Beach, Fla.; marketing operations in New York City; broadcasting operations in Los Angeles; licensing operations in Charlotte; transportation in Conover; N.C.; and a research and development facility in Concord, N.C. Christine also oversees NASCAR's competition security objectives at sanctioned events throughout the United States.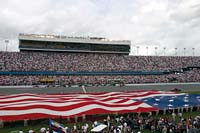 Tireless Preparation
Although preparation for a race takes months, race day is always challenging.
"My typical race day begins at 5 a.m. when I interact with the security representatives at each facility. All facilities possess their own individual security programs, which include law enforcement components from federal, state and local jurisdictions. My primary role is to ensure the facilities operate in accordance with NASCAR guidelines," Christine says. And, NASCAR's common security approach does not differ from day and night events. Typically, venues operate over a four-day period. Facilities generally open to the competitors, race teams and fans on Thursday mornings and continue through the conclusion of the main event on Sunday.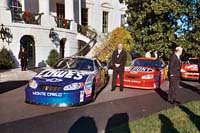 Tight Coordination
Security objectives are coordinated with all available resources 24-hours a day and are enacted prior to gates opening to the general public. "Even during day races our security components are put in place throughout the evening hours to accommodate the vast number of attendees at our facilities. Whether the race is run during daylight or evening hours does not seem to impact our venue security components," Christine says.
The coordinated efforts don't stop there. Christine also interacts with law enforcement agencies with jurisdictional oversight at NASCAR venues. Homeland security directors in each respective state where there are race events are consulted as well. Historically, NASCAR has a long-standing tradition of having its locker rooms, pit and garage areas accessible to fans. NASCAR officials control access to the garage and pit areas. The opportunity to access these areas is a privilege and protected through credentialing. NASCAR works in cooperation with event operations and venue security managers to provide a secure environment for competitors and everyone involved.
"As the start time of the event draws near, I monitor competition-sensitive areas to ensure they are secure including the drivers' motorcoach compound, pit/garage area and the pit road areas. During the event, I am inside the joint law enforcement/emergency services command post usually located outside of the venue seating area. The group has the responsibility of conveying all public safety information to NASCAR race officials and to executive managers," Christine adds


Location Carousel
What adds to the complexity of Christine's responsibility is that the venues change week to week. Concentrated efforts to secure one location can be stressful enough, but how about 23 locations and 36 NASCAR Nextel Cup events every year? NASCAR relies on each venue operations manager to coordinate a viable security operation plan. Each venue has its own security manager whose mission is to organize all law enforcement components. Each venue is required to incorporate crisis management disaster plans in coordination with all law enforcement and public safety agencies that support security at each specific venue.
The human element makes up the largest component of physical security at NASCAR venues. Venue security managers must manage traffic flow, attendee screening, crowd control and emergency response initiatives, as well as securing competition areas.


Security Basics
Protection of venues moves from the outermost perimeters to the innermost perimeters of pit road. Security officers must present a strong deterrent at the gates. Also, security conducts random vehicle searches, especially for those entering the infield area. Technology plays an important role but doesn't replace the essential human element, taking into consideration the vast size of our facilities. All persons entering NASCAR venues, including the competitors, display access credentials. Each venue is charged with implementing 100 percent identification checks of all persons entering the venue including all fans, press and employees. Technological advances will assist in providing the overall security component. Also, because Nextel will be sponsoring NASCAR starting this year, "Nextel's communications component will be incorporated into our overall venue security plan," Christine says.
NASCAR's security program is based on proven preventive measures. All NASCAR facilities possess joint law enforcement command operations centers comprised of command level officials. Threat assessment, training and post-event reviews are critical to enacting and improving the security program for each event. Post-action event reviews are shared with public safety agencies. Christine can mobilize assets necessary to address any and all scenarios, which may impact a NASCAR event. "Our fans have been receptive to increased security initiatives at NASCAR facilities post 9-11," Christine says.
The underlying theme throughout NASCAR's security procedures: Venue security at NASCAR's facilities is a never-ending process involving continuous interaction with all law enforcement agencies with jurisdictional oversight.


SIDEBAR 1: Security on the Radar
Officials at Homestead Miami Speedway wanted to make sure its 434-acre facility was a safe and entertaining environment. Pelco, Clovis, Calif., equipment helped do just that – monitor the crowd scene and the traffic. In addition to safety for racing fans, the drivers used the security system as well.
Matrix switchers, positioning systems, 40 monitors, 40 fixed cameras, fiber optics and coaxial cables are in the Homestead installation. Since its initial installation, the security system has been running smoothly. "The goal of Homestead Miami Speedway has been achieved. We are able to monitor the spectators and prevent incidents from happening during NASCAR's biggest events," says Todd Brown, technician for Pro Sound, North Miami, installer on the project.
Upgrade of the security system is on the agenda. "We would like to upgrade the security system to include a digital recording system. Switching to digital will eliminate the need for bulky cassettes and significantly reduce system costs in maintenance," Brown says


SIDEBAR 2: Terrorism 101
At the recently-held conference on Venue and Event Security: Counter-Terrorism Strategies for Live Events, Stadiums, Arenas and Facilities, sponsored by WCBF, London, a group that offers security intelligence solutions and focuses exclusively on security, terrorism and other business risk assurance topics, discussions arose concerning what exactly terrorism is or its objectives. According to Steven Hacker, president of the International Association for Exhibition Management, Dallas, the basis of venue terrorism is to:
Disrupt normal activities
Inflict economic harm
Wage guerilla warfare
Make a political statement
Create universal fear
Disrupt social, political and economic processes
Produce human casualties
Damage infrastructure
SIDEBAR 3: Terrorism Safeguards
Alarms
Background Checks
Barriers
Bomb Threat Procedures
Bomb Detection & ID
Security Cameras
Disaster Recover Planning
Emergency Response Planning
Entry Controls
Fire Controls
Guard Services
Incident Reporting
Incident Response
Intrusion Detection
Lock & Key Controls
Package Controls
Risk Assessment
Security Planning
Technical Surveillance
Training Programs
Source: RiskWatch Inc., Annapolis, Md., offers advice on how to protect facilities.
A complete and integrated security package will aid in deterrence.
SIDEBAR 4: Securing Soldier Field
Newly renovated Soldier Field in Chicago needed year-round, 24-hour security, especially during event day. Chicago-based Monterrey Security signed a 36-month contract with SMG, a private facility management firm, to provide security services for all new Soldier Field activities, including games for the Chicago Bears and Chicago Fire, concerts and corporate events. Security at Soldier Field features a pan-tilt-zoom surveillance and proximity reader access control system. Monterrey will supervise these systems as well as provide highly trained, off-duty law enforcement and private security officers. These officers will cover the stadium, parking lots and the surrounding 17-acre park land, providing crowd control, stadium entrance and egress, protection for cash exchanges and first response for emergency situations.
SIDEBAR 5: On the Market
RiskWatch Inc., Annapolis, Md., and GlobalOptions Inc., Washington, D.C., jointly center on venue and event security. RiskWatch Event & Public Venue Security combines with GlobalOptions, an international risk management company, to offer software for physical security. Specific components measure the effectiveness of the safeguards at venues.
"It helps security directors, facility managers and chief financial officers justify their budgets to improve security by measuring return on investment," Caroline Hamilton, president of RiskWatch says