There are some new birds in the security nest. They're called application service providers (ASPs) and they are providing facility access control and video surveillance but without the need of end users purchasing access control software or video monitoring and storage gear.
Instead, ASPs such as RemoteVideo of Irvine, Calif., Brivo of Arlington, Va., and iMonitor of Lexington, Mass., offer a hosted, managed service that's Internet-based so end users can "work" the door access of video surveillance through any computer connected to the Web.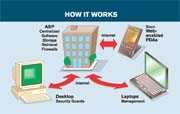 Field Hardware Needed
A Web-based access solution still needs field hardware such as panels, readers and locks, of course. But iAccess from iMonitor, for example, hosts the application software, databases and management reporting—all on a subscription basis. Brivo does much the same while minimizing cabling and hardwiring through use of wireless connections via its own wide area network. Brivo and iMonitor subscribers work their systems via any standard Web browser.
RemoteVideo works a similar plan but provides video surveillance services for real-time acquisition, control, data storage and retrieval of video.
One of the firm's customers, Professional Security Consultants of Los Angeles uses the service to monitor five major southern California shopping centers and the headquarters of the centers' management company. From one location, PSC can view all locations from a desktop computer or laptop from wherever the computer is hooked to the Internet. Authorized users pan, tilt and zoom specific cameras directly from their keyboards or mouse, and receive video directly to their computer. At the central control station, the system is connected to the Internet via high speed DSL.
"We wanted to be able to monitor what is going on...from one central location," reports Jason Fishman, PSC director of security for the shopping centers. "With RemoteVideo, we simply hook up our system to DSL and use the Internet as our video distribution network. It's easy to use and simple to install."


Include Critical Camera Views
During a first step of an expected national rollout, PSC has connected the system to each of the five shopping centers' most critical 16 cameras, chosen for their best overall visibility. Areas include the parking lots, food courts and other large public areas.
"Since I can pan, tilt and zoom each camera with my computer's mouse, I can cover a lot of real estate with just 16 cameras," emphasizes Fishman.