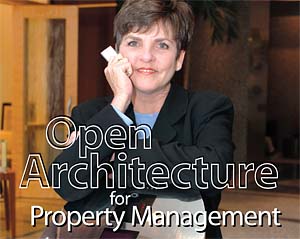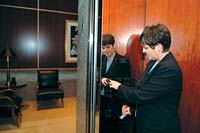 Building owners and property managers are eager to implement smart building concepts both to save money and provide more services for tenants. The challenge in some ways is striving for so-called open architecture that seamlessly blends electronic access control with other building systems.
One leading edge example: Stiles Property Management, one of South Florida's largest real estate management companies and which oversees approximately seven million square feet of office, industrial and retail space.
Some of the real estate company's notable properties include the Bank of America at Las Olas City Centre Building, Sawgrass International Corporate Park, SunTrust International Center, 800 Brickell and retail shopping centers. With security a continually growing concern, Stiles Management utilizes the latest technologies to secure its facilities and the people that frequent them. Their first line of defense: access control solutions protection provided by Checkpoint Systems of Thorofare, N.J.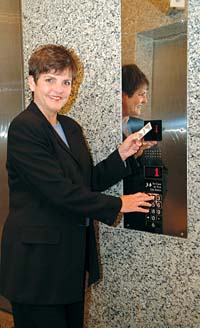 Multi-building commitment
The company's access control solutions are used exclusively on all Class A and B office complexes, according to Judy Carter, senior property manager at Stiles. Carter has been working closely with Don Caldwell, vice president at Security Associates of Florida – an authorized installing dealer – to implement the design and installation of the access control systems.
"The access control solutions offer truly open architecture, allowing the system to be deployed in what would otherwise require customized software solutions," said Caldwell. "Open architecture is a product characteristic that has almost achieved commodity status based on manufacturers' claims, but in reality, this is hardly the case. Few access control systems offer truly open architecture; unlike this one, which has provided us with the scalability we need to accommodate new smart building applications."


The smart elevator
The smart building concept has been a topic of conversation for several years, but few structures have actually satisfied the definition. Stiles Property Management's Bank of America Plaza at Las Olas City Centre in downtown Fort Lauderdale is one of few exceptions. The building's elevator system features a Schindler Miconic 10 elevator system tied into the access control system. The automated elevators were designed to avoid crowded elevators and speed access times by managing the elevators' destinations more efficiently.
Once inside the building's main lobby, tenants and guests enter their destination floor via keypad or a card reader, and a display indicates which elevator they should enter. The elevators have no buttons; instead, a small screen on the elevator door confirms that it is programmed to go to the selected floor. Card readers and keypads are located at each elevator bank on upper floors for authorized travel within the building.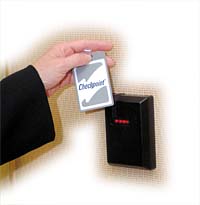 The access control system allows different levels of access to be granted to building tenants (via cards and proximity readers) to prohibit travel to adjacent floors, parking garages or storage areas. Guests are issued temporary cards with specific access authorizations and time restrictions. The integration of the elevator system with access control makes the building more secure and more efficient. "The difference between simply interfacing and fully integrating related building systems is night and day," said Caldwell.
In addition to helping manage elevator systems at the Bank of America building, the security company's access control systems have been deployed in dozens of properties overseen by Stiles Property Management for conventional card reader applications, such as opening exterior and interior doors for pedestrian traffic, as well as proximity reader applications to control overhead garage doors and barrier gates.
"Our initial investment in access control solutions has proven to deliver long-term value," said Carter. "As our building system requirements have grown in both size and complexity over the years, the Checkpoint access control solutions have adapted to our changing needs. Selecting Checkpoint has proven to be a good business decision at Stiles Property Management."
Sidebar: High-Rise Evacuation
Building owners and managers have made significant strides in emergency preparedness, especially since the tragedy of Sept. 11th. According to the National Fire Protection Association, high-rise building evacuation is different from other buildings.
The multiple floors of a high-rise building create the cumulative effect of requiring great numbers of persons to travel great vertical distances on stairs in order to evacuate the building. The physical demands made on occupants often exceed the capabilities of many.
According to www.nfpa.org, the key elements in effective emergency evacuation include: early warning (typically through an alarm or voice communication system), adequate means of egress (exit routes) and occupant familiarity with the plan through knowledge and practice.
Although not mandated for all buildings, NFPA 101, Life Safety Code, requires that workplaces, healthcare facilities, educational institutions and other occupancies provide evacuation/relocation plan information and routinely schedule and hold drills when practicable.
To accommodate disabled occupants, many buildings now have a refuge area well known to building management and first responders. Often times, these spaces are provided with a two-way communication device so the disabled can give rescue personnel their location.


Sidebar: Make the LINX
Want more information on electronic access control systems and open architecture? Just go to the Security magazine Web site at www.securitymagazine.com and use the BNP Media LINX service at the top of the opening page. Powered by Google, LINX allows you to search all Security magazine online files by keyword. Check it out.