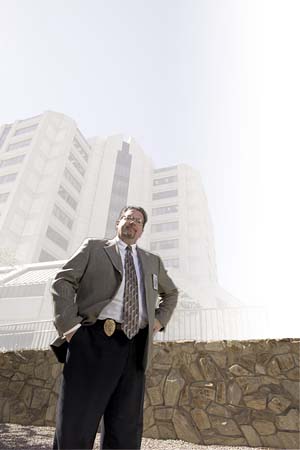 Regrettably, local government facilities are a continuing target for a diversity of attackers, ranging from new age terrorists to domestic court attendees.
One example: New York City was in the news earlier this year when a one-time political opponent managed to bring a weapon into City Hall and kill Brooklyn Councilman James Davis. Councilman Davis died from two gunshot wounds to the chest inflicted during business hours at the landmark lower Manhattan building. Ironically, Davis was known for crusading against urban violence. This incident is yet another indicator of the increasing security challenges facing public sector facilities.
Arizona's Maricopa County addresses such heightened security challenges by combining superior security system design and proven technologies. With responsibility for more than 300 buildings and 35 high-risk sites, including a half dozen downtown high-rise buildings, an off-site public health campus, Department of Transportation, Flood Control District, equipment services repair center/fueling stations, Clerk of the Court records center and the Office of the Medical Examiner, the County's facility management department/protective services division, has to make vital security decisions.


Setting the Bar
Currently, Maricopa County is considered a model for other county governments. In fact, the Maxwell School at Syracuse University rated the County with an overall A-minus, the highest ranking received based on how well it manages the County government systems that deliver public services.
What makes facility security at Maricopa County so special? A County team knows.
Jordan Dacquisto, chief of protective services for the facilities management department, along with colleagues Gloria D'Romero, administrative lieutenant of protective services, and Bill White, information technology manager for business services, have unique insight into the enormous task of securing a county of this size, growth and complexity.
For example, there is a focused mission for facilities management and, more specifically, for protective services.
"Maricopa's facility management department serves over 50 County departments and agencies," Dacquisto says. "The department's protective services division provides complete security services to the County's downtown complex, the West Valley Durango complex and approximately 33 other satellite facilities located throughout the County. Executive protection for the Board of Supervisors, serving employees and the public in need and responding to urgent situations such as bomb threats, fires, medical emergencies and disruptive persons are also part of our job. Finally, we provide a safe and secure atmosphere for employees and the public through ID card access control and parking programs."


Management Platform
One important step was acquisition of an electronic security management system.
"We are one of the fastest growing counties in the nation. With growth comes expansion of facilities and properties," Dacquisto says. "The County had numerous inefficient standalone systems, which allowed security breeches such as unlawful access by separated employees. It also permitted old, invalid information to remain in the system. We needed a system with unlimited expansion capabilities that could be easily integrated into brand new facilities as well as 100-year-old buildings. And it had to be easy to install, learn and use. The ability to add biometrics-based security devices for highly sensitive areas with heightened security requirements was also a priority."
What the new design needed was an enterprise-class system to consolidate the stand-alone systems that existed and provide the ability to use one card type, programmed for all departments and locations. "During the procurement process, Gloria and Bill spoke with several different vendors and previewed numerous systems. Upon presentation of gathered data, the County contracted a security consultant to review and make recommendations on different systems," Dacquisto adds.
The outcome: The solution from Hirsch Electronics of Santa Ana, Calif., was one of the highest rated systems according to the consultant's findings.
There were, however, a number of elements involved in choosing the final security system vendor.


Scalable System
"Hirsch provides a true enterprise-class security system with the ability to scale to virtually an unlimited number of client workstations on the network," Dacquisto says. "This is important for us because we have over 35 County sites on the system and 19 workstations in operation." There are currently over 1,300 devices including biometrics-based readers, digital ScramblePads, proximity readers, remote keyfob devices and panic alarm buttons on the system.
It turned out to be a very intricate project.
Benson Systems of Gilbert, Ariz., the system integrator, beginning installation in April 2001. A technology integration firm specializing in multi-location and highly complex project solutions, Benson provided a complete system solution that not only includes the Hirsch software, but also the necessary infrastructure, networking, cabling, door contacts, readers, etc. The system integrates access, security video and intercom in County buildings, phasing in technology over an eight-month period.
With any project of this scope, there are issues and challenges. Probably the biggest difficulty was integrating multiple legacy databases from other departments into one enterprise system. "Fortunately, the Hirsch system's features, Bill White's expertise in network and database administration and Benson Systems' experience led to a seamless installation, including stringent engineering and testing," Dacquisto believes. The installation was completed with minimal interruption to normal daily activities, critical to the County's operations.
The outcome has been evaluated continuously.
"Gloria D'Romero and Bill White manage and maintain the Hirsch security management system and its single, County-wide database containing user names, card numbers, pictures and credentials, in turn, controlling employee and public access to all County buildings and parking structures," Dacquisto says.


Consistent Database Support
A redundant server stores all data. Upon gaining employment, users are issued photo identification badges created using the Hirsch system. This record is then made available to department administrators, who log into the Hirsch system from their site to specify the door groups, times and functions allowed for each particular cardholder. Additionally, certain buildings have client workstations that allow security personnel to monitor and respond to alarm and non-alarm events at their building.
"The system gives us the ability to run reports and control areas of responsibility, ensuring accountability, and, because it fully integrates with biometrics equipment, we have unlimited expansion potential," Dacquisto adds.
Expansion, of course, is in the design.
"We are constantly expanding the existing system: we continue to remodel, build new or purchase existing facilities that must be protected," Dacquisto observes.
System integrator Benson Systems is currently working on the Durango jail project, a new County facilities management building and a Sheriff's Office training facility. All buildings will have Hirsch access control integrated with security, intercom and video surveillance.
Success on a project of this scale and complexity is indicative of the talent and dedication of the individual team members.
The hardware, software and capabilities of Hirsch Electronics; Benson Systems' ability to implement the technologies; Gloria and Bill's expertise and efficiency to manage the project; and Maricopa County's buy-in and support of the entire process were all critical to the accomplishment of this highly successful high-security implementation.


SIDEBAR: Inside the APP
Security Challenges:
• 300 buildings and 35 high-risk sites
• A half dozen downtown high-rise facilities that house the County Attorney, Treasurer's Office, Assessor, Superintendent of Schools, Court complex, Sheriff, Legal and Public Defenders' office.
• Off-site campuses to include the Department of Transportation, Flood Control, Department of Public Health, equipment services repair center/fueling stations, Clerk of the Court records center, homeless clinic campus, Office of the Medical Examiner as well as five parking structures.
Security Solution:
• High security access control and security management system
• Vendor: Hirsch Electronics, Santa Ana, Calif., www.HirschElectronics.com
• Integrator: Benson Systems, Gilbert, Ariz., www.Bensonsys.com
• 16,000 card holders; 1,300+ card readers and devices on the LAN/WAN including controllers, biometrics readers, digital ScramblePads, proximity readers, remote
keyfob devices, intercoms, security video and panic alarm buttons.