Keyscan
For Keyscan, Aurora is the dawn of a new age for access control. It is the culmination of over 25 years dedicated to access control. This unwavering dedication and effort thrusts Aurora well past the supremacy established by its industry-renowned predecessors. Aurora is defined by the distant horizon and it is with this vision and focus on innovation that Keyscan proudly presents, Aurora.
With a completely redesigned user interface Aurora delivers a new experience that entrenches Keyscan's commitment to innovation and forward-thinking.
Aurora leverages and unleashes the expanded processing power and capabilities of Keyscan's new line of access control units that are already available. Combined, Keyscan's new offering advances with native support for 45,000 card holders (with impressive expansion to 90,000 card holders); 10 assigned groups to a single card holder; multiple credentials assignable to a single user; unlimited user definable optional fields and an all new, Impressive panel to panel based global communication as well as an all new multi-threaded communication structure. All this and much more contribute to this software solution that comfortably supports small and mid-size access control installations while also exceeding the demands of truly large access control deployments.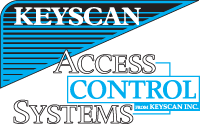 Steve Dentinger, Dir. Sales & Marketing
Keyscan Inc.
901 Burns St. E., Whitby, ON L1N 6A6 Canada
1 888 KEYSCAN (539-7226)