ASIS International
Networking. Information. Education. Credentials. As a member of ASIS International – the world's leading organization for security professionals – you'll experience the power of professional collaboration when you connect with a network of more than 38,000 security practitioners worldwide. You'll appreciate the value of knowledge as you access resources that address a broad range of security management knowledge and practice. You'll accelerate the development of your professional skills when you prepare to meet the challenges ahead with ASIS education. And, you'll realize the achievement of your career goals as you build a reputation as a competent, credible security management professional. ASIS members represent virtually every industry in the public and private sectors and organizations of all sizes. From entry-level managers to CSOs, from security practitioners to systems integrators and consultants, all find a professional home within ASIS.
Budgets tight? Find yourself questioning the investment? Access the risk. Evaluate the return. Can you afford not to join? Visit
www.asisonline.org
to learn how you can put the power of the ASIS global network and expansive resources to work for you and let ASIS keep you at the forefront of your profession.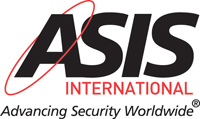 ASIS International
1625 Prince Street
Alexandria, VA 22314
Tel: +1.703.519.6200
Fax: +1.703.519.6299