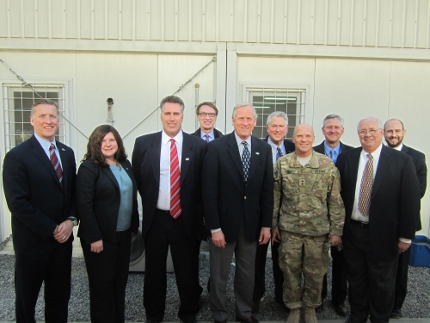 The OSAC private-public sector traveling delegates meet with U.S. officials stationed in Kabul, Afghanistan. Photo courtesy of OSAC.
Day 2 in Kabul, Afghanistan: The OSAC private/public sector traveling delegation was provided an excellent tour of the U.S. Embassy and had an opportunity to meet with various members of the Bureau of Diplomatic Security's RSO Office. 
Each of these men and women took time out of their busy schedules to discuss their respective roles within the embassy and provided us a little personal background…needless to say, the people we met were exceptionally dedicated and committed to protecting the people working at the embassy.  
Later in the morning we had the opportunity to meet with Ambassador Arellano, Coordinating Director for Development and Economic Affairs and Ambassador McFarland, Coordinating Director of Rule of Law and Law Enforcement at U.S. Embassy. During our conversation with the Ambassadors, we discussed the transition, economic development, and rule of law amongst other topics, and focused on how U.S. private sector organizations could be better engaged in the go-forward strategy within Afghanistan. 
At lunch we had the pleasure of dining with U.S. Army Major General Kenneth Dahl who spoke about the progress the Afghanistan military has made in assuming the primary responsibility of securing its country. General Dahl also spoke passionately about the thousands of young American men and women who continue to provide critical support to the Afghan people and government as U.S. forces continue drawing down its personnel.
General Dahl provided my traveling companion David Schrimp a surprise that certainly made his day.  After lunch, General Dahl contacted David's son, a U.S. Army Captain serving at an undisclosed location in Afghanistan, via cell phone so the father and son could catch-up. The gesture was incredibly nice and Dave was extremely thankful for the opportunity to reconnect with his son.
Following lunch, the OSAC Country Council meeting was held. More than 100 council members attended the meeting. The Council was very pleased to have U.S. Ambassador James Cunningham as its keynote presenter. In addition, Ambassadors Arellano and McFarland and General Dahl provided excellent briefings to the attendees on their respective areas of oversight. The Council members also received a very detailed security briefing from Senior Regional Security Officer Fred Ketchem.
Following these presentations, Peter Ford, OSAC's Deputy Executive Director and David Schrimp, Director, Corporate Security Services at 3M Corporation and OSAC Executive Council member discussed OSAC's commitment to the U.S. private sector and highlighted the value of OSAC's private/public sector trips. 
The Country Council meeting was a huge success and a fantastic networking discussion continued well after the meeting had concluded. 
Mr. David Schrimp, Mr. Brad Brekke, Mr. Ralph Boelter, and the undersigned would like to thank Peter Ford and Jacqueline Schools for inviting us to participate in this very valuable trip. A special thanks to Assistant Regional Security Officer Dax Landry for taking such good care of us throughout our stay. The planning and logistics for this trip were immense, but Dax's perseverance made the trip happen. 
A great trip and an honor for all of us to represent OSAC.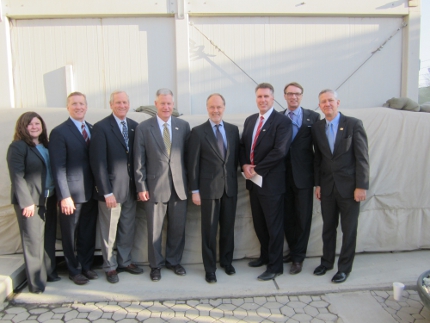 The OSAC private-public sector traveling delegates in Kabul, Afghanistan. Photo courtesy of OSAC.