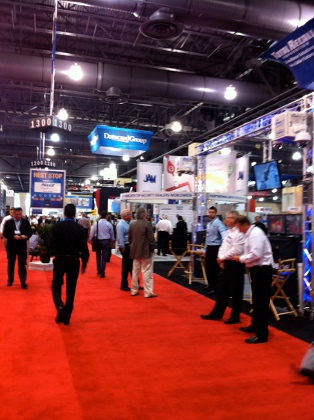 Show attendees walk the "red carpet" at ASIS International 2012.
Who did you meet at ASIS International last week? Between the editors, publisher and sales department of Security magazine, we walked the show floor a hundred times over and probably still didn't get to everyone. But, just to be thorough, here's the rundown of who I met at ASIS, and what we're looking forward to for the rest of the year.
Day One: Monday
Dortronix is releasing new contactless door controls, especially for healthcare environments where keeping the facilities sanitary is key. The company also has new "traffic lights" to control the flow of people through certain doors. On a green light, the door can be opened as necessary, but on a red light, an alarm would sound if the door is opened. These aren't necessarily locking mechanisms, but they assist in the flow of pedestrian traffic through certain areas.
Arecont Vision was unveiling the MegaBall camera, which will boast 12MP possibilities next year. Arecont is also looking to carry cameras that capture 40 megapixels in 2013, as new Arecont Vision Chief Marketing Officer Marc Ladin says, "40 is the new 20."
At Smiths Detection, a variety of threat detection equipment was on display, including full-body X-ray scanners, radioactivity detectors and trace detectors. In all, representatives from the company were explaining their products as part of layered solutions because "One system that's a 'silver bullet' is just one system you need to defeat," says Daniel Martel, director of sales for Smiths Detection.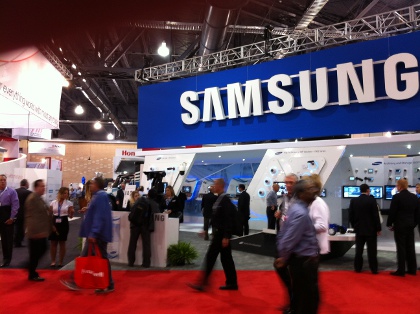 Samsung was unveiling the results of multiple partnerships, including ones with Pivot3 for new professional recording solutions, FaceFirst for facial recognition and detection technology and Milestone for license plate recognition.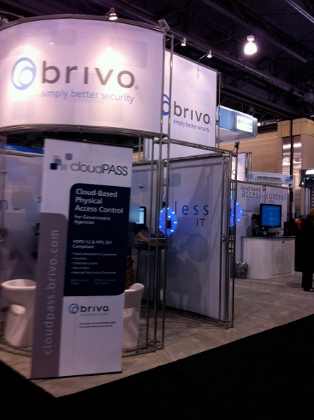 Brivo presented its new Cloud Pass product, which is tailored for compliance in the Federal market – it accommodates specific audience needs as the data is stored in its own data center, adding an extra layer of cloud security.
I stopped by the Schneider Electric/Pelco booth to catch up with senior vice president of global product marketing Herve Fages about his predictions for the security industry in 2013. He sees the need for continued education on the cloud – what it is and what it isn't – because, as he says, "The Cloud means a lot yet means nothing." He also says that we will hear a lot on the differences between video platforms, saying that "MegaPixels do not necessarily mean quality."
The Fidetide booth was the next stop, where Mike Downes, VP of Marketing Communications for the wireless mesh surveillance company, presented several ways that the mesh is being used outside of broad municipal security applications. One major example is how it is being deployed in public transportation, especially subways.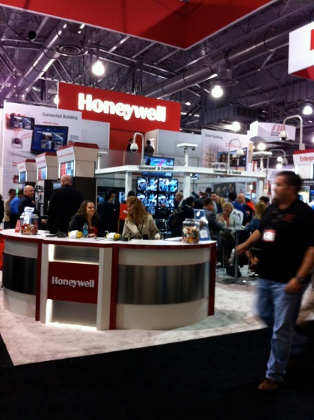 Over at Honeywell, new geo-referencing technology can provide the GPS coordinates of pixels from camera feeds by using geospatial multisensory metadata data correlation to reduce false alarms even past the typical curve. When a normal alarm system might give off 19 false alarms daily, this new system products only one or two, and only in areas where no camera can see yet.
At IQinVision, a new, user-friendly website was on display, as was a new verifocal lens – the smallest available without removing the ability to change its field of view.
Day Two: Tuesday
I started out Tuesday morning with an appointment with Diebold representatives Felix Gonzales (Vice President, Strategic Initiatives and Business Development), Jennifer Kraft (Director of Marketing Communications), Jeremy Brecher (Vice President, Technology & Solutions) and Tony Byerly (Executive Vice President, Electronic Security). Even though Byerly had joined Diebold a mere 90 days before ASIS, he already has a firm three top goals for the coming year:
1.       Expand the market
2.       Grow in the financial space
3.       Add more reoccurring services
In fact, according to Brecher, they are working to design their products from the back-end forward, especially when it comes to Web-based virtual architecture. He says, "we're bringing together the best of both sides – we're taking the center seat and streamlining the process." In all, they are working to produce IT-friendly secure solutions with easy installation, building the systems from the customer's perspective.
At Protech USA, outdoor motion sensors were being tested in-booth, as representatives demonstrated the devices' range of detection, as well as violently shaking the platform holding the sensor – showing that vibrations in the environment would not affect the sensor's ability to detect motion.
Optex America presented their battery-powered wireless photobeams, which reduce the possibility of false alarms by requiring all of the beams to be broken before an alarm is triggered. It also requires no trenching or wiring, reducing costs and installation time. Other new products from Optex include mapping plug-ins that let you geo-track camera locations and track the coordinates of other company assets.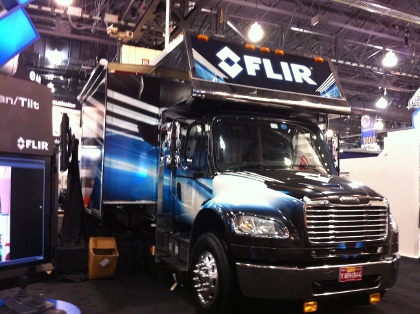 FLIR was displaying their wide dynamic range thermal imaging, which can deal with dramatic changes in temperature, adjusting its sensors to handle events such as sunrises or sunsets to maintain optimal image detection without losing foreground or background information.
Over at the Code Blue booth, another new website, redesigned with end users in mind, was presented, as well as several new videos introducing the brand to new and old audiences alike, showing the production of their emergency notification devices in their Michigan factory. Representatives also reported partnerships with mass notification application company Guardly and the Cleary Center to expand their efforts for ongoing, effective notification capabilities.
Digital Identification Solutions/Matica Systems' Shane Cunningham – the presenter of several recent Security webinars – walked me through the new photo-ID systems being displayed and demonstrated at ASIS, including a high-volume printer often used for loyalty cards. Their modular solutions are also being used in five U.S. states now, and DIS/Matica is working on adding embossing elements to the system for mass production of driver's licenses.
Over at Red Cloud, I was introduced to several more partnerships, including with logical security integrator FishNet and Mercury Security. The company also redesigned its security management software's interface to provide benchmarking possibilities on human experience.
I visited Smarter Security's Jeff Brown, who – after purchasing the company little more than a decade ago – has grown its business by 2,500 percent, he says. Now installed in 85 Manhattan high-rises, the company's turnstiles (now available in IP) are "just now hitting their stride," Brown says.
I headed over to G4S's booth for a media party near the end of ASIS 2012's second day, where Drew Levine and Brian McCabe of G4S and Bill Strother of Weingarten Realty Investors presented RISK360 – a formal security-as-a-service program that provides incident knowledge and unique data for remote monitoring and force multiplication.
"There are two battles security officers are fighting: boredom and functionality," says Levine, President of G4S North America. "We have to work smarter, not just cheaper. We want to give individual officers new opportunities," he adds.
Day Three: Wednesday 
The start of my last day on the show floor kicked off with a chat with Matthew Ladd from The Protection Bureau, a Security-Net partner integrator. Ladd emphasized the changes that are echoing through the security industry from IT, especially as IT and security departments are becoming closer and closer partners.
Over at Axis Communications, business development manager and industry liaison Steve Surfaro says that the company's top three focuses for this year are:
1.       Hardware
2.       Platform
3.       Solution
But overall, the aim is to provide accurate surveillance at an appropriate price point with the best available features, he says.
At BRS Labs, I got to view multiple videos and clips on how the behavioral detection technology works, as it learns and observes an environment for two weeks, building a database of "normal activity," and then detecting anything that does not fit that sense of normalcy, such as extra trash, unusual traffic patterns or even cigarette smoke.
Over at Sony, Carl Lindemann took me on a tour of the booth, starting with a rather humorous take on a cyber boutique, where passersby could virtually try on clothes. The analytics in the camera within the "boutique" could sense when the shopper is smiling, and then would, in theory, show them additional items along that same style. "We're trying to meet the balance of human interaction versus intelligent, interactive systems," says Lindemann. "We've seen vast improvement since ISC West (in March)."
Sony also showed a variety of backlighting solutions, recording systems and hybrid cameras, which can record simultaneous IP and analog video, in order to lessen the cost and hassle of installing an entire new IP system at once, as well as removing the need to pull all of the old cabling.
At Proximex, an integration platform pulls multiple system information into a single platform to allow user interface with maps. As the product hails from origins in the IT industry, it's easy to set up and maintain, says Larry lien, VP of product management, so it lowers the total cost of ownership.
Delta Scientific was presenting its new pneumatic bollards, which can be decorative, cost-effective and eco-friendly. The company also had a portable barricade that can be driven into a site and set up in 15 minutes. These barricades, which can be raised or lowered to control traffic, are designed for temporary perimeter and access control, such as to smaller venues with a high-profile event (such as if President Obama decided to speak at a small college campus), and they can be leased or rented to keep costs low.
Ingersoll Rand was presenting additional Near-Field Communication technology, building on its presentation at ISC West this year. These smartphone access controls work with existing IR readers, and are currently being tested and used at two universities for facility access, meal plans and laundry payments.
Lumidigm has been busy this summer rolling out biometrics-integrated ATMs across Brazil – their fingerprint scanners were, as of last week, installed in some 30,000 ATMs across the South American country, and hundreds more are added every day. The multifactor authentication of card plus PIN plus biometrics is working to secure bank accounts even further. Also, new credential scanners use three prongs of light to verify the barcode and material of any credential being used – adding another level of verification: What you know, Who you are, What you have, and Whether than item is what it says it is.
At Verint, a new mobile app is in the works to allow flexible security on-the-go, and a new NVR is tailored for small to mid-sized business owners, with eight possible inputs that bridge analog and IP. Plus, in other Verint news, it is buying back the last of its shares from parent company Comverse Tech, and Verint acquired an additional 5-7 businesses last year, now reaching a global employee pool of 4,000 people.
So there you have it, ladies and gentlemen – the round-up from ASIS International Exhibits 2012. We at Security got to meet up with some wonderful industry leaders across the board, from end users to integrators and vendors, and we look forward to seeing you all again soon!
What did you see at ASIS 2012 that's worth sharing? Let us know in the comments section below, or feel free to email me directly at meyerc@bnpmedia.com.