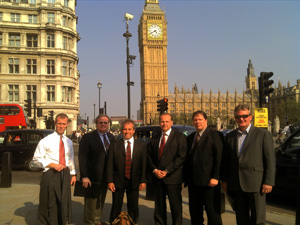 Heminger, McClurg, Schnorbus, Hartung, Hipp, Kelly
May 24-25, 2012 - Leaving Moscow behind we shifted our focus to a venue of more imminent concern:  London…the site of the 2012 Summer Olympic Games, officially the Games of the XXX Olympiad,  which will take place here in just over two months on 27th of July to the 12th of August 2012.  The OSAC London County Council is well-established and is prepped and already very much engaged in the Pre-Olympic planning.  With over seven years in the preparation, this will make the third time that the city has officially hosted the games, previously having done so in 1908 and in 1948. 182 countries have now qualified at least one athlete.  If the speed at which they processed me through Customs at Heathrow's new terminal 5 is any indication, they are indeed ready. 
In advance of our OSAC Country Council meeting, hosted in collaboration with the London First organization at the Senate House of the University of London, members of our OSAC delegation were invited to the British Foreign & Commonwealth Office,  to engage members of the British government and some of their private sector partners in a conversation on how they might best leverage a comparable organization in the UK, bolstering their ability to mitigate unacceptable risk that British businesses face both at home and abroad.  The FCO, as it's called, was constructed in the Italianate style in 1861 by Lord Palmerston, a popular Prime Minister who served during Queen Victoria's reign.  Nowhere was that ornate style more impressively manifest than when we descended the Foreign Office's Official State Staircase upon our departure.  At the conclusion of our time together it was agreed that we would keep the dialogue going and extended an invitation for our "British cousins" to visit our OSAC operations in Washington.  Clearly, a number of ideas on how we can develop our relationship emerged from the meeting, including strengthening the links between OSAC country councils and the equivalent UK commercial associations in some of the higher-risk countries.
The London Country Council convened the next morning with a welcoming offered by Rob Hartung, Assistant Director Diplomatic Security Service – U.S. Dept. of State, followed by a series of updates from various representatives of the London Police community, including the Senior National Coordinator for Counterterrorism, the commander of 2012 Olympics Gold Command, the Territorial Police, and the British Transport Police. Laura Simmons of our OSAC RISC Staff, announced the launch of our OSAC analytical presence, which will eventually ramp to five analysts, and refreshed everyone's recollection as to our concept of operations developed after almost a decade of Olympic engagements. Companies with a particular interest in the games and the security around them can register that interest with Laura on the OSAC website, assuring they're connected to reports and updates that will be regularly issued by the RISC staff. 
Everywhere we went, preparations for either the Queens Diamond Jubilee or the Olympics were evident.  On streets, draped with Union Jacks, or in the hotel lobbies the growing excitement is almost palpable as the Olympic Torch makes its way toward London.  A similar sentiment was evident in our presenters…but for perhaps different reasons.  After years of preparation it's all coming together, but at a time when on the global stage a number of other complicating, unanticipated variables are also at play, e.g. Greece, which comes to a head during the weeks of the Olympics.  While there isn't any consensus on how that complex situation might play out, there is unanimity that it unequivocally adds a dimension of uncertainty with unknown collateral consequences which will make the months ahead very interesting indeed.  Stay tuned to www.osac.gov as we weather those uncertainties together.

You're invited to stay "On the Track of OSAC" as we will continue to chronicle our 2012 travels via this blog from India this coming October.   In the meantime, also continue look for exact dates and times of Country Council meetings at www.OSAC.gov .