May 2, 2010
Houston, Texas 

As I indicated in my last installment of "On the Track of OSAC" we're shifting our focus this week from the challenges of the Middle East  to those intractable ones we now face in Mexico.  We've convened here at the Baker Institute for Public Policy on the beautiful campus of Rice University, with seven, Mexico-based Regional Security Officers (RSOs) and 200+ representatives from the FBI, other U.S. government agencies, and the private sector.  Our goal, like at other such gatherings, was to grapple with what seems to be the never-ending challenges of doing business in this most proximate part of our global marketplace.  We began the morning with a hope of gaining some new insights as to how we might yet engage more effectively, as a community and individually, on security problems which are clearly no longer just a challenge of the "the border cites" but which, rightly or wrongly, are now characteristically ascribed to most of the country.  Notwithstanding that fact and not unlike the positions we hold with respect to the Middle East, many of our corporations continue to harbor hopes of continuing our focus on Mexico as a viable place from which to securely advance global efforts. 
Joan Neuhaus, Fellow for Homeland Security & Terrorism Programs at the Baker Institute, opened the morning for us with a succinct, if not painful, review of the complexities we face in Mexico including some of the initiatives being championed with a hope of ending the cycles of violence that now dominate the daily news.
Given the continued commitment of corporate America to Mexico and the pronounced way in which border challenges defy characterization as either strictly "international" or "domestic" in nature, it seemed appropriate to include in our discussions representatives of the FBI who shared with us updates of their most recent strategies to deal with this ambiguity.  Those efforts include a new Southwest Border Initiative and innovative new ways by which they're seeking to assure that they leverage, through the use of "hybrid squads," the resources they can bring to bear on these cross-border challenges.
Representatives of U.S. Customs & Border Protection (CBP) reviewed with the group the progress of their C-TPAT (Customs-Trade Partnership Against Terrorism) program, a border protection (supply chain security) effort that now touts more than 10,112 certified members.  Both the ingenuity and stupidity expended by the cartels in efforts to circumvent these protective measures is astounding.
The highlight of the afternoon and one of the great benefits that these regionally focused OSAC conferences affords is that of meeting with various RSOs from around the region.  Rather than traveling to each of them individually, which would be costly and inefficient, they again came to us.  In this instance seven RSOs from various cities across Mexico joined us, presented their unique insights to the group, and then met with us in a question-and-answer session, not unlike what we've advanced as "Knowledge Cafes" at other conferences.

While all of their presentations were characterized by what seemed to me an almost inescapable moroseness, they were at the same time universally consistent in the confidence they radiated as to our ultimate ability to find ways of successfully mitigating threats that are not likely to go away any time soon. To that end we, as a community, must continue to work together.  On OSAC's part, we're collectively working to evolve new structures from within which we will be better positioned to address risks that could otherwise preempt success in achieving our respective missions.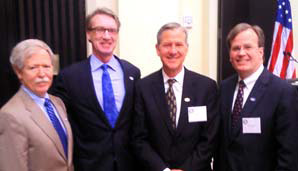 OSAC Executive Members:         
Snyder, Brekke, Ford, McClurg
| | |
| --- | --- |
| | |
| Mexico RSO Panel |   |
From Houston, tomorrow,  we'll head to Monterey and Mexico City for Country Councils and from there to points south and Country Councils in Rio and Sao Paulo. For exact dates and times of these events please consult www.OSAC.gov. In the meantime, Mark McCourt and Diane Ritchey tell me you can continue to watch our continuing series of blogs here at www.securitymagazine.com  where they graciously continue to host us.