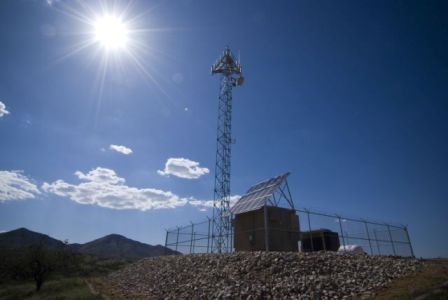 By Bill Zalud, Security Magazine Editor Emeritus
The U.S. issued a stop work order on a "virtual fence" on the U.S.-Mexican border. Homeland Security Secretary Janet Napolitano said the freeze on work beyond two pilot projects in Arizona was pending a broader reassessment. Still, knowledgeable security experts and Congressional leaders feel that the action announced Tuesday, Mar. 16, signals a likely death knell for a troubled five-year plan to drape a chain of tower-mounted sensors and other surveillance gear across most of the 2,000-mile southern border.
The demise of the project highlights the challenges that some private security operations face when integrating diverse technologies and systems into an overall command and control operation to provide situational awareness.
In a short statement from the DHS Secretary,"Not only do we have an obligation to secure our borders, we have a responsibility to do so in the most cost effective way possible. The system of sensors and cameras along the Southwest border known as SBInet has been plagued with cost overruns and missed deadlines. Effective immediately, the Department of Homeland Security will redeploy $50 million of Recovery Act funding originally allocated for the SBInet Block 1 to other tested, commercially available security technology along the Southwest border, including mobile surveillance, thermal imaging devices, ultra-light detection, backscatter units, mobile radios, cameras and laptops for pursuit vehicles, and remote video surveillance system enhancements. Additionally, we are freezing all SBInet funding beyond SBInet Block 1's initial deployment to the Tucson and Ajo regions until the assessment I ordered in January is completed," stated Napolitano.
Started in 2006 as a Bush Administration initiative, SBInet is a major technology effort focused on the areas between the ports-of-entry on the Southwest Border. The goal of the SBInet program was to integrate new and existing border technology into a networked system that would enable CBP personnel to more effectively detect, identify, classify, and respond to incursions at the border. SBInet is responsible for acquisition, development, and integration of technology solutions to provide:
·         Surveillance and detection tools such as unattended ground sensors, radar, and cameras for comprehensive awareness of the border situation(s) and to give agents the information they need to make deployment and interdiction decisions in their area of responsibility;
·         Command, control, and intelligence tools to help CBP operators manage the large volume of information through a common operating picture (COP), to facilitate tactical decision making, and to coordinate law enforcement responses; and,
·         A communications infrastructure needed to transport sensor information from operational field elements to headquarters.
The initial deployment of SBInet capabilities was referred to as SBInet Block 1, deployment of towers with a suite of integrated day and night cameras, radars, unattended ground sensors, and a communications relay. Block 1 also included a COP, which links towers and sensors within an area of operations, and feeds information to a display in a Border Patrol command center, providing situational awareness of what is happening at the border. The Block 1 system completed Systems Qualification Testing in January 2009 at the Field Test Lab in Playas, N.M., the first of three testing milestones in the SBInet development process.
The Tucson-1 (TUS-1) and Ajo-1 (AJO-1) projects in Arizona of the SBInet Block 1 system cover a total of 53 miles of the international border with Mexico. TUS-1 overlays prototype deployment of SBInet, originally known as Project 28 or P-28.
Many feel that the overall design spun out of control based on prime contractor Boeing's focus on using off-the-shelf technologies.
DHS has spent $3.4 billion on border fencing in recent years, completing 640 of a planned 652 miles of fencing and vehicle barriers as part of the Secure Border Initiative. Block 1 of SBInet, the technology portion of the plan, was budgeted to spend $700 million to erect about 50 camera and radio towers on a 28-mile segment south of Tucson and a 30-mile stretch near Ajo.
Last year, DHS officials predicted SBInet would cost $6.7 billion to secure the full border, minus a 200-mile span in southwestern Texas that is difficult to cross and expensive to monitor.
The Government Accountability Office, Congress's audit arm, reported that the government rushed to use off-the-shelf equipment without adequate testing.
What went wrong? Email your observations to zaludreport@bnpmedia.com