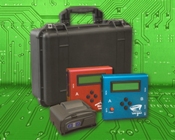 The PSIClone Mini Lab, a portable hard-drive forensic lab now available from Security Engineered Machinery (SEM), enables law enforcement agencies to quickly and thoroughly copy ("clone") data from a computer hard drive for pre-trial analysis without compromising evidence.
The Mini Lab includes an SEM Hammer Data Elimination Unit, an SEM PSIClone Data Verification Unit, a Bluetooth printer for audit trails, all necessary cables and power supplies, and a rugged transport case that meets pertinent U.S. Department of Defense drop-test standards. Built-in software makes the reliable Mini Lab compatible with a desktop or notebook personal computer.
The Hammer is used to prepare the destination hard-drive disk. With Secure Erase protocols it overwrites all previously entered data, including the host protected area and any hidden (device configuration overlay) files. The PSIClone is then used to format the destination drive with an FAT32 file system so that the files can be used with other PC-based forensic tools. (Custom configurations are saved in nonvolatile memory.)
The next step is to "clone" the data contained on the evidential source drive. The PSIClone protects the source drive's data before copying it to the destination drive at up to 3.6 GB per minute. When the transfer is complete, the destination drive contains an exact copy of the data, including its MD5 Hash — the algorithm that serves as the digital "fingerprint" of the source drive's data stream. The data can be analyzed subsequently on the destination drive without fear of tampering with the original evidence.
The PSIClone and Hammer both use a USB 2.0 host interface and support two drive interfaces: Parallel ATA (PATA) and Serial ATA (SATA). The PSIClone's software includes a diagnostic tool that helps identify problems quickly, and the unit's user-configurable error-handling capabilities offer unique options for working with troubled source drives.
SEM, the largest direct supplier of data destruction equipment in the United States, not only offers off-the-shelf units but also maintains a full-service engineering department that designs special products, such as the currency destruction systems in use by the Federal Reserve Bank and other central banks. Every American embassy uses SEM equipment. Other areas of expertise include equipment for destroying "off-spec" or returned product for the pharmaceutical, medical device, and food industries and heavy-duty, high-capacity shredders for recycling applications. More than 100 SEM authorized service centers are positioned to serve customers worldwide.
For more information, contact Lisa Gauvin, Sales Manager, Security Engineered Machinery, PO Box 1045, Westboro, MA 01581, Tel: (508) 366-1488, FAX: (508) 366-6814, E-mail: info@semshred.com, www.semshred.com.