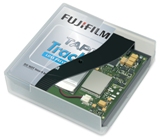 Fujifilm told Zalud's Blog the Fujifilm Tape Tracker, a unique, high performance data asset management solution improves the security and shipping of data tape media. Designed to fit inside a standard tape media case, the Fujifilm Tape Tracker combines leading GPS technology and a web-based application to provide CIOs and data managers with location and tracking information in real time. 
The patent pending Fujifilm Tape Tracker provides data managers a broad perspective of their data assets during transport to offsite vaulting locations, other data centers or disaster recovery facilities. The system will be demonstrated at the Fujifilm booth (#867) at the International Conference for High Performance Computing, Networking, Storage and Analysis (SC07) in Reno, Nevada from November 10-16.
"Maintaining integrity of data from creation to archive is a primary focus for many corporate data centers, particularly as disaster recovery strategies and government compliance become critical to the longevity of a business," said Daniel Greenberg, New Product Planning Manager, Recording Media Division, FUJIFILM U.S.A., Inc. "We're working closely with our customers to develop novel solutions like the Fujifilm Tape Tracker that help them implement procedures for maintaining the integrity of back up data - from the data center to any offsite location."
Today, maintaining the integrity of data tape is much easier with the advent of hardware encryption and WORM (Write-Once, Read-Many) capabilities of tape systems. Earlier this year, Fujifilm introduced the Fujifilm LTO Gen 4 tape media, the latest version of the popular storage format that uses Fujifilm NANOCUBIC coating technology to deliver reliable consistency across the high-capacity media. The LTO Ultrium Gen 4 format also supports the latest drive based encryption standards for securing data on the tape. But until now, there has not been a solution for managers to monitor tape based assets once outside of their facility.
Fujifilm, which manufactures magnetic tape media for data center and professional broadcast markets, worked with QinetiQ, a leading global defense and security technology company to create a state-of-the-art GPS system housed in a standard ½-inch data tape cartridge. The resulting device closely resembles a standard data tape, but when included in a tape media case, for example, allows data managers to monitor important data assets in real-time or locates misplaced or stolen tapes instantly.
In addition to the device, Fujifilm Tape Tracker utilizes a secure, web-based tracking software application called FujiFind for managing one or several data tape shipments simultaneously, from any PC. The Fujifilm Tape Tracker is up to 1,000 times more sensitive than conventional GPS receivers so users can track inventory through rural areas, cities, within transport vehicles and even inside warehouse locations.
The Fujifilm TapeTracker enables a variety of tracking operations:
·         Loss Prevention – Locates and tracks valuable data assets and assists in misplaced or stolen data asset recovery.
·         Asset Tracking – Tracks and logs the movement of high valued goods like data tapes and ensures proper chain of custody and verifies items are being properly handled and accounted for.
·        Cargo Tracking – Tracks valuable consignments in boxes, on pallets and in trucks, to improve efficiency or track shipments at risk of lost.