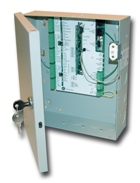 DirecDoor is the industry's only two-reader and two-door, Power-over-Ethernet (PoE), IP-connected access controller. Unlike traditional centralized access control panels, the DirecDoor controller is deployed at the door location -- at the edge of the network – with full controller intelligence, in a specifically designed two-door configuration. "GE Security is excited about our first Power-over-Ethernet enabled access controller," said Carla Stewart, access general manager and product leader for GE Security
 
"The DirecDoor controller not only addresses some shortcomings of IP readers, but can also reduce the cost of installation. Feedback from our integrators during field trials has been very positive. The technology and price-point of DirecDoor makes it possible to bring security to isolated doors and smaller installations." Since it is installed on the protected side of the door, the DirecDoor controller presents a superior, inherently more secure solution than IP readers; those readers often expose network connections, door strike relays and databases outside the protected space.
DirecDoor integrates with
GE Security's Facility Commander WNX, Secure Perfect and Picture Perfect access control and security management platforms, adding to a long line of integrated security solutions from GE Security.