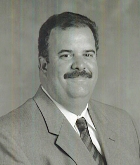 Panasonic System Solutions Company (PSSA), a leader in professional video surveillance and medical vision systems, announces the appointment of James DeStefano as Director of Sales for their Security Systems and Vision Systems Groups. The newly created position is effective immediately and reports directly to company President Frank DeFina.
 
"We are pleased to welcome Jim to our team," said Mr. DeFina. "His extensive experience in the security industry made him the right candidate to help Panasonic meet our objectives as well as raise our sights." In his new role, Mr. DeStefano will develop strategy based on demand generation, focusing on analog as well as potential new markets for Panasonic's i-Pro IP category. His task is to drive growth through the creation and implementation of effective sales programs, channel partner development, and strategic alliances. Mr. DeStefano brings over 20 years of proven experience in sales and security team leadership and business development. Most recently he was the Manager of Global Security at GMAC Financial Services, overseeing security operations for more than 950 offices worldwide, and the Director of Sales for a North American integrator.
A graduate of The Pennsylvania State University, he is a popular speaker at security seminars and conferences as well as a published author of industry articles. He also holds the Certified Fraud Examiner (CFE) designation from the Association of Certified Fraud Examiners.