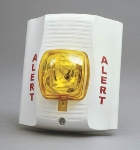 The System Sensor SpectrAlert Advance line now includes the SW-ALERT and the SWH-ALERT amber lens strobes for use in mass notification systems as a visible means to indicate non-fire evacuation. These strobes are listed in compliance with the ANSI/UL1638 – Standard for General Signaling Visible Appliances.
The amber lens color is recognized by the Department of Defense via the Unified Facilities Criteria document as the visual indicator for mass notification systems in military applications.
"Recent events have highlighted the need to inform building occupants when non-fire emergency conditions require building evacuation," said Mary Foster, senior marketing manager at System Sensor. "These events have increased the implementation of mass notification systems in institutional settings such as universities and military installations. 
While a voice system can be programmed to alter the audible message for non-fire evacuation, a visible signal for non-fire evacuation is still required for hearing-impaired occupants. An amber strobe sends that distinctive visual signal which differs from the white fire alarm strobe."
The SW-ALERT and SWH-ALERT appliances each use an amber colored lens over a strobe that can be adjusted to 11 different candela settings.
The strobe is mounted in a white "ALERT" housing to provide a distinction from the white strobe lights used for fire notifications. These amber lens strobes are compatible with the System Sensor synchronization protocol.
These newest units blend into the SpectrAlert® Advance portfolio with the same quality design, configuration, and installation features consistent with System Sensor wall mount horns, strobes, horn/strobes, chimes and chime strobes, as well as ceiling mount strobes and horn/strobes.