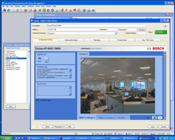 Heard at ASIS --AMAG Technology announces a technologically advanced strategic alliance with Bosch Security Systems. AMAG's Symmetry Video Management System seamlessly integrates with Bosch's Dinion IP camera range

including NWC, NWD models and Autodome Modular.
Bosch's comprehensive range of Dinion IP cameras produces up to 30 images per second of high-quality video at a true 4CIF MPEG-4 video resolution with tri-streaming capabilities. Dinion IP cameras have an Ethernet and analog connection that provide customers with the flexibility to use the cabling of their choice, and scalability to allow customers to use the cameras for any size application.
Symmetry Video is a powerful video solution that seamlessly integrates with the Symmetry™ Security Management System to provide a powerful security management solution. Symmetry Video's open platform supports multiple technologies which allow users to migrate from analog to digital technology at their own pace. Symmetry provides total integration with the leading DVR, NVR and Network IP camera manufacturer's products.
"The AMAG/Bosch partnership will provide a solution in which both AMAG and Bosch integrators will benefit," said AMAG Technology, Chief Technical Officer, David Ella. "Our products work closely together to provide the totally integrated solution our customers have come to expect."
A Symmetry Security Management System from AMAG Technology combines all of the requirements needed for building security including access control, video management, alarm management, identity management, visitor management, and command and control into a single deeply integrated security management system for any size organization.