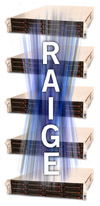 On a visit in Palo Alto, Zalud's Blog learned that Pivot3 Inc, the inventor of virtual distributed RAID, announced its entry into the scalable network storage market with an IP-based storage cluster that delivers up to five times the performance at half of the cost of competitive solutions. The Pivot3 RAIGE (RAID Across Independent Gigabit Ethernet) Storage Cluster is the first system based on the ground-breaking Pivot3 block-level virtualization architecture that reduces storage infrastructure costs by up to 50 percent while significantly increasing scalability and data availability.
"We want to be able to scale to hundreds of thousands of subscriber sites and millions of cameras," stated Rick Bentley, founder and CEO of Connexed Technologies, a hosted video surveillance provider and a Pivot3 customer. "Pivot3 has brought to fruition the type of storage solution we have only envisioned. The flexibility of the IP-based storage solution from Pivot3 is a perfect fit for data-intensive environments such as video surveillance."
"With block-level virtualization, IT organizations are no longer dependent on traditional storage and RAID controllers, translating into great performance and cost benefits. They are not limited by a controller that is too small and they don't have to pay up-front for a controller that is too big," said Robert Fernander, chief executive officer of Pivot3. "Pivot3 transforms a standards-based hardware investment into enterprise-class data protection."
Pivot3 is currently building partnerships in the burgeoning digital video surveillance market, where storage spending growth is in excess of 60 percent a year and represents half or more of the cost of a large deployment. "Often an afterthought, storage has become one of the overriding costs in modern implementations," said Bob Carreon, chief executive officer at Insight Video Net, a provider of video management software systems and a Pivot3 partner. "With Pivot3 storage, our customers are now able to store and manage more video data at less cost. While the pay-as-you-grow format is an important factor for our customers, the high-performance and ease-of-use are often a critical aspect for public sector organizations. These organizations may not have storage specialists and need a solution that will simplify management while supporting their strict requirements. With Pivot3, they get the data protection required by their business while experiencing high performance and scaling capabilities."
Pivot3 Inc, the inventor of virtual distributed RAID, also announced details of its partner program targeting the physical security market. The program is designed to assist resellers, integrators and solution providers in offering leading-edge IP storage cluster solutions to end-users in the physical security market – such as video surveillance – while building profitable service margins.