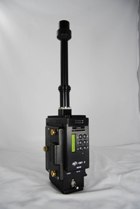 RF Central just told Zalud's Blog about its RFX-CMT-II 5.8GHz camera-mounted transmitter. Specially designed for the government sector, the unit offers complete HD upgradeability with the latest in high-quality, low-latency, HD encoding technology. 
With inputs of HD, SDI, ASI or Composite video signals, this new product is perfect for real time image transmissions. Applications include high quality imagery for surveillance, monitoring, and situational awareness. The compact unit offers a variable 6/7/8 MHz modulator, 100mw power output, and full MPEG menu control by the customer. It is designed for live transmissions requiring the ultimate in quality and performance from a wireless camera transmitter. The RFX-CMT-II's linear RF amplification technology limits spectral regrowth at full power to less than -35dBc, offering robust RF performance with exceptional adjacent channel rejection. The CMT-II is also offered in the 2GHz frequency bands. Other frequencies are available upon request. 
"RF Central prides itself in providing commercial off-the-shelf technology alternatives and sophisticated solutions for today's law enforcement, emergency services, homeland security, and military customers," says RF Central CEO Jeff Winemiller. "The RFX-CMT-II is representative of that critical mission."
While the RFX-CMT-II is available in Standard Definition, it is software upgradeable to full High Definition (HD) and will interface with all standard broadcast portable power systems.