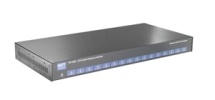 Network Video Technologies (NVT) tells Zalud's Blog it released a range of three revolutionary Digital EQTM UTP Active Receiver Hubs. The NV-872, NV–1672 and the NV-3272 are 8-, 16-, and 32-channel active hubs that allow the transmission of real-time monochrome or color video at distances up to one mile (1,6km) using Category-2 or 3 Unshielded Twisted-Pair UTP wire, or up to 1.5 miles (2,4km) NTSC using Category-5 or better. These Digital EQTM Receiver Hubs continuously and automatically digitally compensates for cable attenuation, ground-loops, and wiring polarity, independent of video signal image. No video equalization adjustments are ever necessary.
The 8-channel NV-872 and the 16-channel NV-1672 also feature a Distribution Amplifier (DA) built into each channel. These compact 1U high hubs feature two video outputs per input channel (NV-1672) or four outputs per channel (NV-872) for high-density distribution amplifier applications. All three models are equipped with built-in multi-stage transient protection and per channel video quality diagnostic LEDs.
These products allow installers and end-users to benefit from the performance, cost savings, simplicity, and future proofing of structured building wiring. All NVT products are UL and cUL listed, and compliant with CE, RoHS, and WEEE, and come with NVT's lifetime warranty.