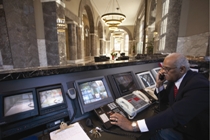 AlliedBarton Security Services, www.AlliedBarton.com, showcased its new state-of-the-art virtual training at ASIS 2007. AlliedBarton's 3-D virtual training accelerates learning in simulated environments with virtual world technology that empowers security officer personnel with enhanced and expanded learning opportunities.
"Avatar-based virtual world training allows officers to 'walk' and 'interact' inside a simulated 3-D client site and engage in 'what if' scenarios," said Richard Cordivari, AlliedBarton's National Training Director. "Whether used for distance or classroom learning, the benefits of our expanding training programs are flexibility in terms of delivery method, the ability to be interactive, comprehensive content, and customizations to meet our client's needs. Our officers appreciate the convenience of on-demand training delivered to the workplace anywhere they are via a variety of methods, including the Internet."
In addition to AlliedBarton's new virtual training, another new training initiative is KnowledgeKnuggets(TM), short instructive audio MP3 files officers can access on the go that provide the next generation of technology tools to empower AlliedBarton's mobile security work force. These audio training segments feature a variety of safety topic areas and are designed to refresh previously learned information and encourage officers to take full advantage of all the learning opportunities that AlliedBarton makes available.
AlliedBarton Security Services, which celebrates its 50th anniversary this month, is the only contract security services firm honored for two consecutive years in Training magazine's prestigious Top 125 list.
"We place primary importance on providing our security officers with the most up-to-date and comprehensive training in the physical security sector," said Bill Whitmore, President and CEO, AlliedBarton Security Services. "By delivering world-class virtual and classroom training programs, we are able to ensure our security officers are well-versed in a wide variety of tactical and strategic information across the diverse industries we protect."
"We recognize the importance of providing our training programs in a variety of formats. Our virtual training and audio files add another layer of flexibility and accessibility to our already comprehensive program," adds Cordivari. "Our first virtual training module, vehicle search for the chemical/petrochemical industry, is a topic that benefits from three dimensional instruction and represents an exciting training development for the security industry."